About The Mayor
Mayor 2015 -1016
Councillor David Isaac
Councillor David Isaac was inaugurated to the office of Mayor of the County Borough of Merthyr Tydfil on 20th May 2015. He has represented the Penydarren Electoral Division since 2012. David lives in Penydarren with his wife Deborah and children, Caitlin, Dafydd, Ffion and stepsons Brennig and Rhys.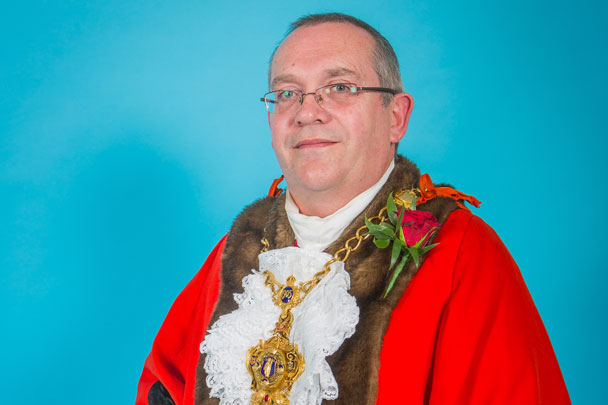 David Gareth Isaac was born 03/03/1962 to Beatrice and Brynmor Isaac and he is the eldest of three sons.
David attended Gwaunfarren Primary School and Penydre Comprehensive School. Upon leaving Penydre, he started work in Asda supermarket Dowlais Top where he spent 5 happy years. On leaving Asda he worked for Leo's homecentre as warehouse manager.
David commenced a long and varied career with the Ambulance Service, being one of the first in a handful of paramedics to qualify in Merthyr Tydfil in 1992. As First Citizen of the County Borough of Merthyr Tydfil, Councillor Isaac's duties include chairing full meetings of the Council and representing the Council at formal and ceremonial occasions within the County Borough, regionally, nationally and internationally. He will welcome visitors to the County Borough and attend and support events organised by local people and organisations.
During his year of office, the Mayor will be busy raising funds for his chosen local charities, which are Cancer Aid Merthyr Tydfil and Wales Air Ambulance. All funds raised will go towards the wonderful work these charities have already undertaken in our County Borough and continue to do so. All monies raised will be used solely for the benefit of our communities and we look forward to working closely with both charities during our mayoral year.
The Past Mayor, Councillor Brian Mansbridge raised over £17,000 for his chosen Charities, Alzheimer's Society and PHAB.