A 64-year-old former civil servant who spends his time volunteering to help learners of all ages get digital has won a major award
Categories : Press Release
02 Oct 2020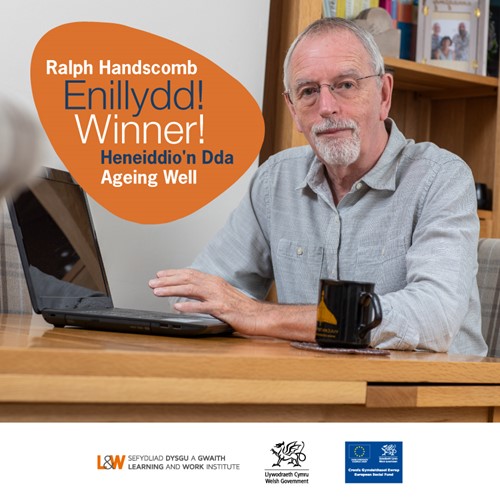 "Learning has always been a part of my life; you can teach this old dog new tricks!"
A 64-year-old former civil servant who spends his time volunteering to help learners of all ages get digital has won a major award.
Retiree Ralph Handscomb, from Merthyr Tydfil also helped people search for jobs during lockdown and he's just received an Inspire! Award for his efforts in supporting learners in their teens to 70-year-olds with their online journeys.
Ralph, who is a learner and a volunteer with Merthyr Tydfil County Borough Council Adult Community Learning at The College in Merthyr Tydfil and the town's JobCentre Plus, was awarded with the 'Ageing Well' Inspire! Award, a recognition of his success in changing his life through learning.
He is one of 12 winners who feature as part of Adult Learners' Week, a week full of taster sessions and masterclasses aimed to inspire others to follow in their footsteps, which this year takes place online from 21-27 September.
Co-ordinated by the Learning and Work Institute with support from the Welsh Government and the European Social Fund, the Inspire! Awards recognise those who have demonstrated the power of learning, building confidence and developing vibrant and successful communities.
Ralph said: "I have always been fascinated by computers. But with my seven O Level passes from the 70s, there were limited options in the industry, so my interest really began to grow when we got our first huge desktop PC at home in 1996.
"I took evening classes and was surprised how different it was to my school experience.  People actually wanted to be there, and it just showed you can continue learning, in your own time and around your family commitments all while being treated as an adult."
Ralph passed his first computer qualifications – CLAIT Level I and IBT Level II – in 1996 with and then went on to secure his European Computer Driving Licence in 2008.
He said: "I always brought my digital skills into every job I had, even as a bus driver I helped everyone in the office digitise and overhauled the route systems.
"Staying as up to date as possible with my training courses meant when I joined the Welsh Assembly Government in 2000 as the "new" Windows 95 system was introduced, I had already had five years' worth of experience. 
"My night classes and qualifications resulted in three promotions within the civil service but after 22 years I retired. I spent some time in the garden, but my wife wanted me to do something to fill my time – and to get me out from underneath her feet." 
Ralph returned to "school" completing the Award in Education and Training (Level III), which now enables him to share his skills and experience through his voluntary work whilst continuing his own learning by keeping up to date with the latest European Computer Driving Licence syllabus.
He said: "I've always enjoyed helping people with computers. It's that lightbulb moment where it all clicks for them or that 'ah' sound when they realise how much time they can save."
Adult Learners' Week celebrates lifelong learning, whether in educational institutions, through work, at home or as a leisure activity and the week will be full of tasters and success stories on why learning a new skill can change your story.
Ralph continued: "Learning has helped me throughout my career and now I'm so happy that I can help others. I volunteer at the college and at the JobCentre. Everything these days is online, and it can be cruel to those who are intimidated by it, even registering at the JobCentre is all digital as is looking for a job.
"It's so rewarding, especially during lockdown as I know for some people that video call or email was a lifeline to them, in tough times."
"I will never stop learning or teaching, it keeps my brain active and makes me feel good. I regularly practice my new methods on my family, they can't believe from my little side project, I've won this award.
"I take pride in seeing my learners pass, gain confidence and the doors opening up for them personally and professionally. Once the learning flame ignites and burns the learners will achieve, and that pride is immeasurable."
Education Minister Kirsty Williams said: "Even without a ceremony it's so important that we celebrate the Inspire! Awards winners whose determination has been extraordinary.  
"Ralph is a great example of how lifelong learning has turned his life around, both professionally and personally. Gaining qualifications at any age will not only help us build a workforce with the right skills needed for the new normal, but also inspire people to keep learning to explore directions and keep their minds and bodies healthy too."
David Hagendyk, Director for Wales at Learning and Work Institute, said: "There has never been a better or more important time to start learning and our Inspire! Award winners show just what is possible. Whether it is gaining skills to help you find a new job, improving your health, or learning something you have always been passionate about, now is the time to pick up the phone or go online to get the support you need to start your journey. 
"During lockdown thousands of adults across Wales started to change their story by learning something new. We hope the incredible stories of all our award winners will inspire thousands more to take that first step back into adult education."
To find out what's going on during Adult Learners' Week and for personalised advice on your own learning options and support available, get in touch with Working Wales on 0800 028 4844, visit your local Careers centre, or search www.workingwales.gov.wales