Animated video delivers entrepreneurship message
Categories : Press Release
30 Jul 2020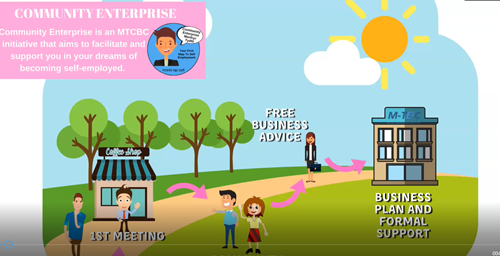 The Council's support project for budding entrepreneurs has launched a fun animated promotional video to show what it can offer in a simple and eye catching way.  
Merthyr Tydfil Community Enterprise is a one-stop shop for people with new business ideas, providing them with a complete support package to help turn their dreams into reality. 
Jointly funded by the Bridges into Work 2 and Working Skills for Adults 2 programmes, Community Enterprise was developed to stimulate enterprise in the heart of local communities.
The role is embedded within the Council's Employability Team and has the advantage of being able to call on support from a wide range of employability schemes such as Communities for Work and Communities for Work Plus, Nurture, Equip, Thrive (NET) and more.
Community Enterprise Officer Elliott Evans said: "The idea of the video originated from a conversation where we were looking at ways of promoting community enterprise through social media.
"We came up the idea of an animation-type promotional video which would very simply highlight the support available to anyone wanting to start their own business.
"By using animation, we felt that this took away the stigma that business and enterprise is a little scary and intimidating and only certain people can start their own business.  Anyone can be an entrepreneur!
"The video also allows us to highlight the soft touch approach we take with community enterprise - from a quick chat in a café, to offering advice from one of community enterprise support members."
The video was designed and produced by one of the project's own success stories.  Sarah Leanne Hicks started her own business, Merthyr Media, with support from the team and MTEC.
Merthyr Media operates from the Redhouse and provides a complete media service for start-ups and established businesses website design, photography, video production and branding and advertising.
Elliott is available to discuss your business ideas and help support you on your journey to creating a successful enterprise.  Please contact him via email elliott.evans@merthyr.gov.uk or tel 07923 241356.