Aspire to change your life with help from Q&A
Categories : Press Release
09 Feb 2021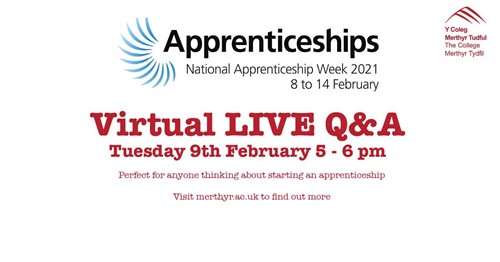 Young people in Merthyr Tydfil are being urged to go online this evening for a live Q&A session telling them all they need to know about the opportunities offered by apprenticeships.
As part of National Apprenticeship Week (February 8-14), Aspire Merthyr Tydfil, Tydfil Training and The College Merthyr Tydfil are holding the Q&A to help school and college leavers take the first step towards developing their work based skills.
Over the past four years, the Welsh Government-funded Aspire Shared Apprenticeship Programme has seen more than 30 young people placed with host employer companies while studying at the College Merthyr Tydfil, Coleg Y Cymoedd and Cardiff and Vale College.
Aspire is a partnership project in which apprentices are employed by Merthyr Tydfil County Borough Council, trained by the colleges and Tydfil Training and placed with a local firm for two to three years, depending on the length of their apprenticeship course.
They are encouraged to rotate around employers in the advanced manufacturing and engineering sector to fill any skills gaps in relation to their learning pathway, and are paid above minimum apprenticeship wages. There are also some financial incentives for employers to take part in the programme.
Aspire Merthyr Tydfil currently has 30 apprentices on the programme, 10 of whom have been recruited during the pandemic. All are studying at Level 3 or above in STEM-related apprenticeships within advanced manufacturing and engineering, and two students are working towards their HNC,
Aspire applicants have to be aged between 16 and 24 years; possess five GCSEs grades A-C including STEM subjects and an A level pass in STEM subjects – especially maths and science; and either be starting VRQ, or have completed the Enhanced Engineering Programme or Pathways to Apprenticeships, or completed VRQ at college.
This evening's Q&A is from 5-6pm. Find out how to join in here: http://ow.ly/7tQI50DshX2
If you run a Merthyr Tydfil manufacturing and/or engineering company and would like to learn more about the programme, please contact Jared Green via email jared.green@merthyr.gov.uk #NationalApprenticeshipWeek