Bollards to be installed in town centre to make shopping safer
Categories : Press Release
20 Jan 2021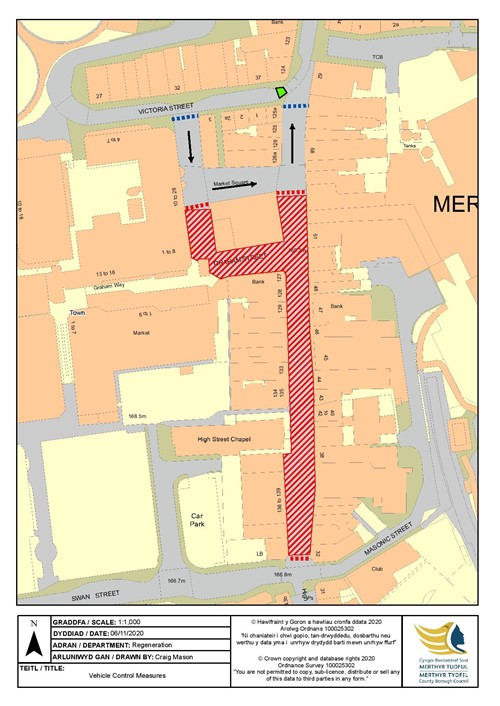 The Council is installing permanent bollards in Merthyr Tydfil town centre to combat the increasing problem of vehicles using pedestrianised sections and causing a danger to shoppers.
There will be 31 bollards installed in Market Square and Upper High Street over the next month to restrict access to goods delivery vehicles only, and at certain times of the day and week.
They will be allowed access on market days (Tuesday and Saturday) from midnight to 8:30am and from 5:30pm to midnight. The rest of the week, access will be allowed before 11am and after 3pm.
"Our Regeneration team have been working on developing a scheme to prevent the daily and prohibited vehicle movement on our pedestrianised High Street," said Cllr Geraint Thomas, Cabinet Member for Regeneration and Public Protection.
"Over the past month, there's been an alarming increase in the number of vehicles accessing Market Square and Upper High Street. This has led to a higher incidence of pedestrian vehicular conflict and a major health and safety concern, which needs to be urgently addressed.
"The Regeneration, parking enforcement and street cleansing teams have drawn up an operational plan to ensure that the bollards function effectively on a daily basis and the appropriate access is provided/controlled."
Ace Builders and sub-contractors Raynes are starting work next Monday (25 January), with completion estimated in the second week of February. Goods vehicles are not permitted at any time on High Street between Market Square and Swan Street. Any unauthorised vehicles accessing these and the areas with bollards, or not manoeuvring in accordance with existing Traffic Orders, will be liable to a Fixed Penalty Notice.
"We're confident that this scheme can give the Council control of our own High Street again and help to create a safer and more pleasant environment for its local residents and visitors," Cllr Thomas added.
"The scheme will also help to provide enhanced social distancing measures in line with Welsh Government guidelines, which is also very significant."