Chair of Cardiff Capital Region's Economic Growth Partnership Receives 'Outstanding Contribution' award at Finance Awards Wales
Categories : Press Release
10 Apr 2019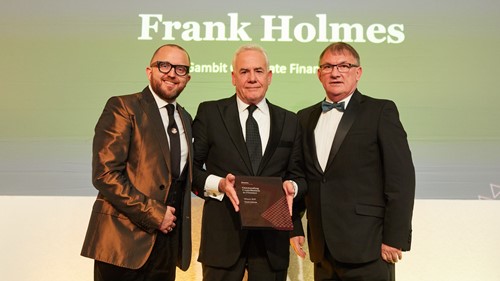 FRANK Holmes, Chair of the Cardiff Capital Region's Economic Growth Partnership, has been honoured with the Outstanding Contribution to Finance in Wales award at the Finance Awards Wales 2019, hosted by Recruit 121 Finance & Accounting.
Frank Holmes' leadership skills, financial expertise and his focus on the wider community made him stand out to this year's judges' panel.
He was particularly celebrated for his contribution to South East Wales, taking on a key role as Chair of the CCR's Economic Growth Partnership in November 2017. Frank oversees the £1.2bn City Deal investment programme, looking for investment opportunities from which the region can flourish and become more accessible.
Frank Holmes said: "It's a great privilege to receive the Outstanding Contribution to Finance in Wales award and follow the steps of former Admiral Finance Director Andrew Probert, whom I greatly admire.
"During my career I have learned that often you have to take the long hard road over an easy shortcut, to reap the long-term benefits. This also applies to the financial sector and the Cardiff Capital Region, embracing projects that will benefit the region in the long run.
"We're investing in innovative and high-quality sectors such as the compound semiconductor cluster and looking to support the growing FinTech eco-system as well as embracing cohesive partnerships, as can be seen from our collaboration with universities for the CCR graduate scheme."
Chair of the judging panel was Ken Poole, head of economic development at Cardiff Council.
He paid tribute to Mr Holmes, saying: "Each year a panel of judges come together to identify an individual who has been a key player in the Welsh economy over a significant number of years. This year, everyone quickly noted Frank's contribution and the vital role he played both at Gambit Corporate Finance and in the Cardiff Capital Region.
"His extensive knowledge in the financial sector, his initiative and his sense of leadership are a great contribution to the Cardiff Capital Region City Deal. They're essential in helping South East Wales to invest in projects that make a sustainable contribution to growth in the region."
Earlier this year, Frank unveiled the CCR's Industrial and Economic Plan and presented it to a global audience and potential investors in Cannes at MIPIM, the world's leading property exhibition. The Plan builds on the region's competitive advantage and strategically targets sectors that will help the region flourish and benefit future generations.
The Plan can be accessed on the CCR website at https://bit.ly/2WUjS9J and identifies some of the economic productivity issues South East Wales faces. It supports innovative projects that will bring sustainable growth and inclusive prosperity to the region and promotes global interconnectivity within and outside of the region.
More than 400 professionals came together as they honoured Wales' finest financial professionals for the second year in a row at the Finance Awards Wales event at Cardiff City Hall.