Contractors invited to learn about £10m Merthyr Tydfil bus station opportunities
Categories : Press Release
15 Aug 2019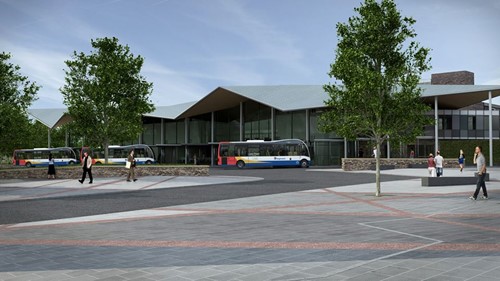 Opportunities for the South Wales construction industry to win supply chain contracts for the new £10m Merthyr Tydfil bus station will be outlined at a Meet the Buyer event next month.
Preparatory work has just begun on the redevelopment of the former police station site in Swan Street, with an expected completion date of autumn 2020.
Primary contractor Morgan Sindall is offering an extensive range of sub-contracting opportunities for services including scaffolding, security, bricklaying, carpentry, plastering, mechanical with design, electrical with design, flooring, steel doors and roller shutters, zinc roofing & cladding, painting & decorating, landscaping, signage, road markings, tiling and cleaning
Merthyr Tydfil County Borough Council is hosting the Meet the Buyer event at the Orbit Business Centre on Wednesday, September 11.
Potential suppliers will be given presentations detailing the work to be carried out and the Council's procurement team and Welsh Government's Business Wales service will be on hand to give support and advice on how to tender for contracts.
Welsh Government has provided £10m funding for the bus station, which will be located closer to the town's railway station, to complement its significant investment in the Core Valley Lines Rail Network.
"The County Borough Council and Morgan Sindall have held a number of meetings to ensure local business engagement in relation to the opportunities there, and Morgan Sindall are very keen to offer sub-contract work to our local companies," said Merthyr Tydfil Council Leader Cllr Kevin O'Neill.
"This event will properly brief them on what's available, as well as providing all the guidance they need to ensure they know how to tender for contracts."
• The Meet the Buyer event on September 11 will run from 9am-1pm and also allow attendees to find out how to register their interest in taking part in the project. To register to attend the meeting and receive further information, please call the Enterprise Team on 01685 725289/725268; email lance.whitely@merthyr.gov.uk Registration closes on Monday, September 9.