Contractors queue to learn about Merthyr Tydfil bus station opportunities
Categories : Press Release
11 Sep 2019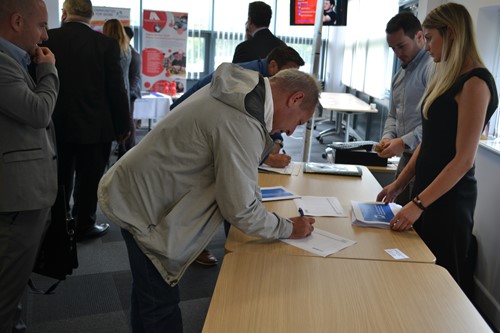 Companies from across South East Wales today attended a Meet the Buyer event in the hope of securing work on Merthyr Tydfil's current most important regeneration project.
Bricklayers, scaffolders, carpenters and landscapers were among more than 80 people who attended the Orbit Business Centre event to learn about the opportunities for them to help build the new Merthyr Tydfil bus station over the next year.
As well as hearing about the £10m project, the businesses were also made aware of future potential construction work in Merthyr Tydfil and given advice from the Welsh Government's Business Wales service on how to register for the Sell2Wales and eTenderWales services.
"Some members of the audience didn't know about these business procurement websites," said Merthyr Tydfil County Borough Council Leader Cllr Kevin O'Neill. "They were either unaware that they would have to be registered to obtain work or weren't sure how to go about doing it.
"We also made them aware of potential opportunities on future projects including the Cyfarthfa international heritage centre, Parc Taf Bargoed and the town centre redevelopment. So it was a good engagement exercise for both the Council and local construction industry."
Bus Station preparatory work has just begun on the redevelopment of the former police station site in Swan Street, with an expected completion date of autumn 2020.
Primary contractor Morgan Sindall is offering sub-contracting opportunities for services including scaffolding, security, bricklaying, carpentry, plastering, mechanical with design, electrical with design, flooring, steel doors and roller shutters, zinc roofing & cladding, painting & decorating, landscaping, signage, road markings, tiling and cleaning
Welsh Government has provided £10m funding for the bus station, which will be located closer to the town's railway station, to complement its significant investment in the Core Valley Lines Rail Network.
Cllr O'Neill described the bus station as the authority's current flagship project and said the Council wanted to do it justice - in terms not only of the finished product, but also of the opportunities it created in the local economy.
"Whenever the Council embarks on a major development of this kind, our economic development department leaves no stone unturned to ensure we maximise its employment and wider economic potential," he added.
"Morgan Sindall are as keen as us to see a flurry of supply chain contracts for companies in and around Merthyr Tydfil, and were here today to outline an extensive range of sub-contracting requirements.
"I hope that by working together, we can create an amazing 21st-century bus station that will serve Merthyr Tydfil residents and visitors alike for long into the future."
• Further information and support on how to get involved in the bus station project is available from Phillip Church on 02920 811398/ 07814 771902; email phillip.church@morgansindall.com