Council consults on preferred site for 3-16 Catholic School
Categories : Press Release
09 Nov 2020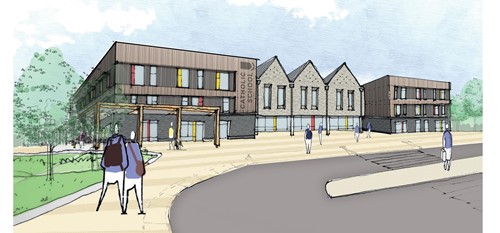 Merthyr Tydfil County Borough Council is consulting residents, churches, pupils, staff and the wider local communities on the preferred site for its plans to build a single all through 3-16 Voluntary Aided (VA) Catholic school.
The new school is expected to open on the new site in September 2023 and its construction will mean closure of the current Bishop Hedley High School, St Aloysius RC Primary, and the Federation of St Illtyd's and St Mary's RC Primary Schools.
The Council approved the merger of the four existing schools in September 2019 following a statutory consultation process, with the schools planned to merge in September 2022, a year before moving to the new site. Please see links to Cabinet report and appendices https://bit.ly/32u4i9T  and https://bit.ly/2If6R8C 
Two viable options are proposed for the building
Option A would see all school accommodation on the land south of the Greenie playing fields, with proposed shared use of one of the community playing fields - which would be enhanced to an all-weather facility.  Car parking and drop off facilities would be provided at the current upper Bishop Hedley site.
Option B would be as Option A but include additional grass pitches on the existing upper Bishop Hedley site instead of a macadam multi-court pitch on main school site south of the Greenie.
The Council is running a three-week consultation exercise from November 9-November 30. Please find links to the survey and site plans here: https://www.smartsurvey.co.uk/s/singlecatholicschool/
Provision is being planned by the County Borough Council in partnership with the Archdiocese of Cardiff. Archbishop of Cardiff, the Most Reverend George Stack has said the new provision will allow for a seamless transition from early years to GCSE.  
"It will put us in an advantageous position to deliver the new curriculum and give our children the benefits of an uninterrupted educational journey," he added. "It will allow us to continue to build upon the very good education currently offered by those schools in a state-of-the-art campus."
Cabinet Member for Learning Cllr Lisa Mytton said: "We're confident that our new school will provide the best possible learning environment for our students. We're asking the community to support us in choosing the best possible site for it."