Council Leader left disappointed following plea to residents
Categories : Press Release
06 Nov 2020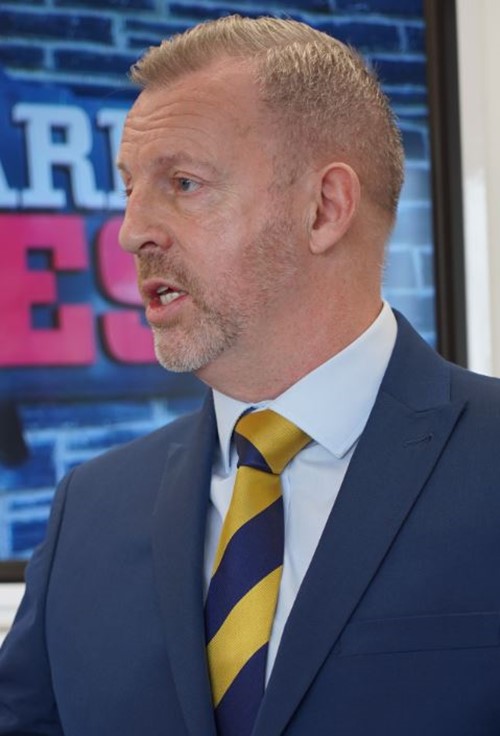 Councillor Kevin O'Neill, Leader of Merthyr Tydfil County Borough Council has expressed his disappointment following reports of large gatherings in the County Borough on Bonfire night.
Councillor O'Neill, said: "I am saddened by the behaviour of a minority of local families and young people on the Gurnos Estate last night and the way in which they celebrated Bonfire night.
"I understand that this an important night of the year for many, but this year our message was very clear; stay at home. Sadly, video footage shared online last night showed that some people thought that this didn't apply to them as they showed utter contempt  for the rules that have been put in place to protect them and their families from the virus."
Both the Police and Fire Service attended last night once they had been made aware of this incident, it was concluded the fire was not dangerous. 
The Leader continued "What further concerns me is that this happened on the day that Merthyr Tydfil was confirmed as having the highest rate of Coronavirus cases per 100,000 population in the whole of the UK.  There is no excuse!
"All that I hope now is that last night's events do not have an impact on virus transmission in Merthyr Tydfil. If so, it may come at a huge cost to us all. Only time will tell."
South Wales Fire Service also commented:"At approximately 6:23pm on Thursday 5th November 2020 we received reports of a large refuse fire near Ash Crescent in Gurnos, Merthyr Tydfil.
"A crew attended the scene alongside police colleagues and conducted a risk assessment, which looked into the risk to life and property presented by the fire.  A joint decision was made to allow the fire to burn itself out whilst under supervision."
Head of Risk Reduction for South Wales Fire and Rescue Service, Jason Evans, said: "Bonfires can be a significant fire risk and we advise that residents refrain from having such fires, and be considerate of any neighbours with breathing conditions who may also be self-isolating with symptoms of Covid-19. We also do not advise anyone to burn garden or household waste. Please instead use your local authority waste, recycling and composting services, or store it for when you can.
"Acting irresponsibly around fires and fireworks can have devastating consequences, can cause life threatening injuries and can even cost lives."
South Wales Police Chief Inspector, Geraint White, said: "Police officers were called to reports of large public gatherings on Bonfire Night across Mid Glamorgan.
"The behaviour of a minority of individuals was totally unacceptable. Officers were faced with a degree of hostility which we have not experienced for some time, including a missile being thrown at officers and a vehicle damaged. These incidents are now subject of an investigation, where we will be reviewing footage recorded on officers' body-worn video and action will be taken against offenders who are identified.
"In addition to the serious health risks associated of ignoring the current firebreak lockdown rules, criminal and anti-social behaviour will not be tolerated and those involved in last night's events will find themselves subject of retrospective police action."
The Leader further commented: "We are asking everyone to adhere to the restrictions put in place for our collective, maximum long-term gain. The only way this will happen is if we make sacrifices now.
"This virus will continue to spread if we do not do what is being asked of us and it is important that we remember why these restrictions are in place:
To help save lives.
To make sure our NHS can carry on providing high-quality care for people with coronavirus and for people with other illnesses and injuries this winter.
We cannot bring coronavirus under control without your help.
We need everyone to work together
We need to keep Wales Safe 
For further information, please visit the Council's website on www.merthyr.gov.uk
Welsh Government www.gov.wales and Public Health Wales www.phw.nhs.wales