Council welcomes bus station funding offer
Categories : Press Release
16 May 2019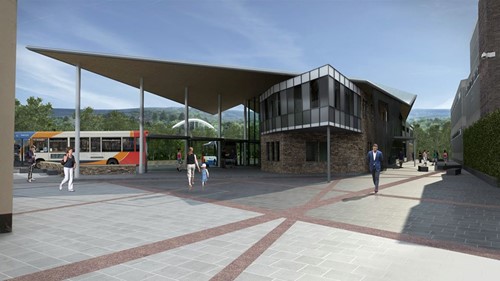 Merthyr Tydfil County Borough Council has welcomed as 'exciting news' the announcement of a Welsh Government offer of £10m funding for the new town centre bus station.
Welsh Government Economy and Transport Minister Ken Skates AM has approved the Council's Local Transport Fund application to commence work on the station in this calendar year.
"The application is over a two-year period with £3.6million in 2019/20 and £6.5m in 2020/21 and we received an offer letter today (Thursday, 16 May 2019)," said Merthyr Tydfil County Borough Council Chief Officer for Community Regeneration Alyn Owen.
"Following this exciting news, we're now proceeding to award a contract, with a view to work commencing some time over the next few months. We'd like to thank Welsh Government for supporting our projects and we'll be keeping residents updated every step along the way."
The bus station development will complement the significant investment by Welsh Government in the Core Valley Lines Rail Network.
"The Council is also working with Welsh Government, Transport for Wales and the Valleys Taskforce on a masterplan to ensure that the new bus and rail investments create an integrated transport solution as part of a new phase of regeneration for Merthyr Tydfil town centre and its wider communities," Alyn Owen added.