Deep spring clean for Taff Trail after busiest ever year
Categories : Press Release
25 Mar 2021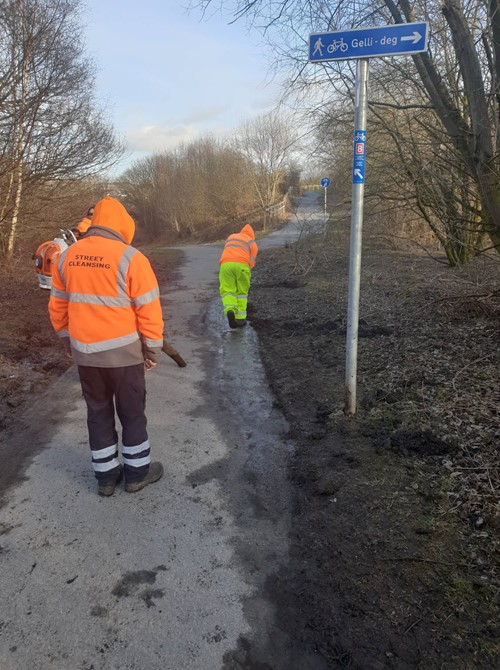 The 14-mile stretch of the Taff Trail running through Merthyr Tydfil is back to pristine condition after a long year of wear and tear following an intensive clean up and maintenance operation.
The Trail is looking at its best after the Council's Street Cleansing team have been mechanically sweeping every pathway they were able to access, removing over 40 tonnes of stone, debris and green waste – and hand blowing footpaths not accessible to sweeper vehicles.
Making their way from as far north as Ffynnon Dwyn, Pontsticill to Bryngolau, Aberfan in the south of the county borough, the team have so far collected more than 150 bags of recyclable materials and 130 bags of rubbish.  They are still working as far as the boundary with Rhondda Cynon Taf.  
The clean-up was paid for by the Council's Active Merthyr team.  Sports Development Officer Jennifer Evans said: "With the increasing number of users on the trails over the past year, we thought it would be a good idea to use part of our funding to have maintenance work carried out on the Taff trail."
A recent Council survey revealed a more than 90% increase in visits to the Taff Trail recorded during the three periods of lockdown.
Over 2020 as a whole, there was an increase of 49% in the number of visits, while the lockdowns combined saw figures rise 92% - from 186,075 for the same periods in 2019 to 357,301 in 2020.
Footfall counters recorded a total 723,377 visits recorded in 2020 compared with 486,916 in 2019. 
"It's been fantastic to see the trails and open spaces used so much - even during the winter months.  However, after the winter weather and much higher footfall numbers, it was very evident that trails needed a good clean up," she added.
"This will provide residents with the best outdoor facilities for their physical activity needs for the forthcoming summer months.  We'd appeal to them, though, to help us keep the trails clean by leaving no trace and taking all litter with them."