Demolition marks start of new chapter for Taff and Crescent Street residents
Categories : Press Release
25 Aug 2020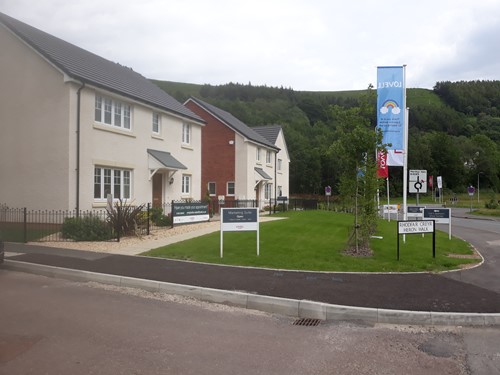 The demolition of two rows of houses in Merthyr Vale marks the end of a carefully managed process to relocate residents from a dangerously flood-prone area to new homes, many of which are in a multi-million-pound regeneration project.
Taff Street and Crescent Street, which were built on a floodplain in the 1940s and have suffered recurring flooding during the past 20 years, are being demolished over a three-month period.
Residents moved out of the two streets over the course of three years from 2016, and work has been ongoing ever since to comply with ecology and biosecurity measures such as protecting roosting bats and repositioning soil contaminated with Japanese Knotweed, which will now be treated through a three-year spraying programme.
While 23 families with housing association tenancies moved into purpose built homes in Aberfan when they were completed in 2017, a number of the remaining residents have recently moved to the £25 million Ymyl Yr Afon housing development that has been built as part of a large-scale regeneration programme by the County Borough Council, supported by Welsh Government on the site of the former Merthyr Vale Colliery.
The project created 110 homes for open-market sale and 43 affordable houses and apartments owned by Merthyr Tydfil Housing Association.
Cabinet Member for Regeneration and Public Protection, Cllr Geraint Thomas, said: "The process of acquiring all the properties at Taff and Crescent Streets, which were a mixture of housing association and private ownership, was complicated and has taken some time.
"Taff Street and Crescent Street were built on a flood plain. Natural Resources Wales highlighted the area as one without significant flood defence measures and it has seriously flooded on a number of occasions. The houses posed a risk to health and life, being damp outside and in.
"We wanted to keep as much of the community - the families and neighbours - together as possible, so they were given the first opportunity to move into the new homes. All the children are still able to attend Aberfan Primary School.
"These new properties, built by developer Lovell, are contemporary, high-quality homes in attractive tree-lined streets and with lots of open green space.
Karen Courts, Chief Executive at Merthyr Tydfil Housing Association (MTHA), said: "While the communities at Taff and Crescent Streets were established communities, the health and well-being of residents and our tenants was our first priority.
"We were delighted when the first community project and the homes built for 23 families in 2017 was recognised with several awards. Many of the remaining families moved away or found their own alternative accommodation but we were thrilled to welcome the last of our Taff and Crescent families to their new, purpose-built homes at Ymyl Yr Afon."
One of the residents of the new homes, MTHA tenant Ruth Williams said: "We have been happy in our temporary home but couldn't wait to move home to Merthyr Vale. Now we are back, and I love it.
"The new house is lovely and I was able to choose the carpet, laminate flooring and the blinds. It's nice to be back where I have family and friends' support, which I've found a lifesaver during lockdown."