European experts meet in Merthyr Tydfil to plan social enterprise economy boost
Categories : Press Release
16 Apr 2019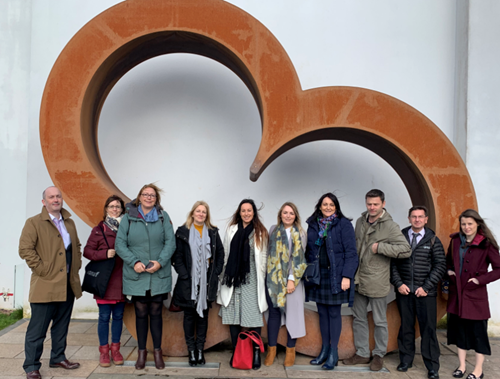 Merthyr Tydfil was recently the venue for a meeting between regeneration officers from across Europe looking to help kick-start economic growth in their local communities.
The County Borough Council hosted the two-day event on behalf of the Support Network for Social Entrepreneurs (SuNSE), a project comprising 10 North West European transnational partners working to support social enterprises to help regenerate where they live.
The European Commission-funded Interreg VB North-West Europe programme has brought together expertise, support agencies, local authorities, universities and enterprise support specialists to address 'common problems of market failure'.
The result is a planned network of social entrepreneurship hubs to act as local points for stimulating community driven economic activity in disadvantaged regions.
Partners from Scotland, Northern Ireland, the Republic of Ireland, England, Holland, Luxembourg, France and Switzerland were in Merthyr Tydfil to attend meetings, workshops and a visit to local social innovation hub Merthyr Tydfil Enterprise Centre (MTEC).
The SuNSE programme is being led by Scotland's Highlands and Islands Enterprise, whose Policy and Projects Manager Kevin McDonald said: "The exchange in Merthyr Tydfil was an excellent opportunity to learn about a different and dynamic environment for social enterprises and share some of the excellent work we've all undertaken in this area."
Merthyr Tydfil Cabinet Member for Regeneration and Public Protection Cllr Geraint Thomas said the programme's core theme was supporting new start-ups and the creation of jobs.
"The aim is that the social enterprises will help reduce out-migration of ambitious people by offering them support in areas such as business planning, financial management, market awareness and commercialising opportunities to enable them to establish locally based social businesses," he added.
"While it was once the Iron Capital of the World, Merthyr Tydfil is currently the smallest of the local authorities in Wales," said Cllr Thomas. "Whereas heavy industry was once the town's past, it is tourism, retail, light manufacturing and the service and public sectors that are its present. SuNSE aims to encourage and nurture social enterprises to be a significant part of its future."
 
• Interreg North-West Europe (NWE) is a European Territorial Cooperation Programme funded by the EC with the aim of making the North-West Europe area a key economic player and an attractive place to work and live, with high levels of innovation, sustainability and cohesion.
• It invests EUR 370 million of European Regional Development Fund (ERDF) in activities based on the cooperation of organisations from eight countries: Belgium, France, Germany, Ireland, Luxembourg, The Netherlands, Switzerland and the United Kingdom.
• The Merthyr Tydfil Enterprise Centre (MTEC), which opened in July 2015, supports start-ups and existing businesses looking to develop their companies or business ideas. The organisation was created by Tydfil Training in conjunction with Merthyr Tydfil County Borough Council and since its launch, has helped over 300 businesses from various sectors, including digital and retail.