Flagship Aspire programme team up for top national award
Categories : Press Release
28 Mar 2021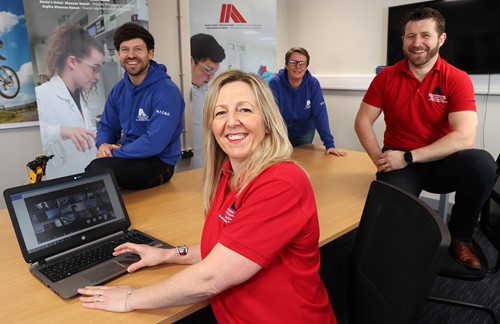 The highly successful Aspire Merthyr Tydfil Shared Apprenticeship Programme Team, along with partner Blaenau Gwent Aspire, is in the running for a prestigious annual national award.
The teams have been selected as finalists in the Apprenticeship Awards Cymru, a virtual event taking place on 29 April and the highlight of the work-based learning calendar.
Apprenticeship Awards Cymru recognises and celebrates the contribution of work-based learning practitioners, apprentices, outstanding achievers and dedicated employers who have excelled on the Welsh Government's Apprenticeship and Traineeship Programmes.
Aspire Merthyr Tydfil and Aspire Blaenau Gwent have been chosen, along with four other organisations, in the category of 'Large and Macro Employer of The Year'. This award celebrates the employer's commitment to developing their workforces through apprenticeships, while supporting their employees during training.
Aspire Blaenau Gwent was established in 2015 and Aspire Merthyr Tydfil in 2017, the team specialising in providing local manufacturing and engineering businesses with apprentices. To date, they boast an impressive 100% record of apprentices being employed through the programme.
Over the past four years, more than 30 young Merthyr Tydfil people have been placed with host employer companies while studying at the College Merthyr Tydfil, Coleg Y Cymoedd and Cardiff and Vale College.
The apprentices are employed by the County Borough Council, trained by the colleges and Tydfil Training and placed with a local firm for two to three years, depending on the length of their apprenticeship course.
Aspire applicants have to be aged between 16 and 24 years; possess five GCSEs grades A-C including STEM subjects and an A level pass in STEM subjects – especially maths and science; and either be starting VRQ, or have completed the Enhanced Engineering Programme or Pathways to Apprenticeships, or completed VRQ at college.
The Apprenticeship Awards Cymru are organised jointly by the National Training Federation for Wales and Welsh Government and, via a distinguished panel of judges, have brought together 35 finalists in 12 categories from all parts of Wales.
The other finalists in the category of Large and Macro Employer of the Year are
Heddlu Dyfed-Powys Police, DOW, Rhondda Cynon Taf Council and Swansea Bay University Health Board