Free weekend Christmas parking for Merthyr Tydfil shoppers
Categories : Press Release
11 Nov 2020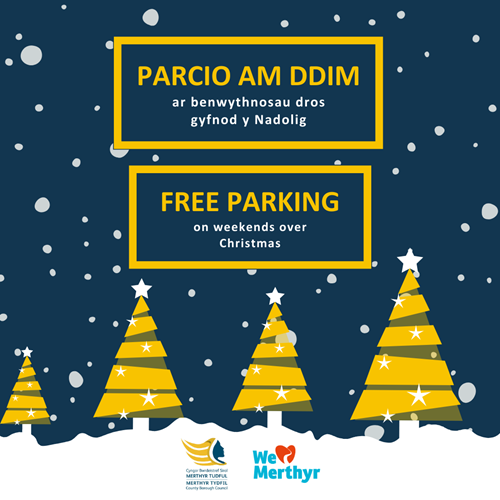 Merthyr Tydfil residents are being urged to shop local this Christmas and have the incentive of free weekend parking from Friday until the end of the year.
The County Borough Council and Big Heart of Merthyr Tydfil Business Improvement District (BID) are encouraging people to take advantage of free parking at all town centre car parks every Friday, Saturday and Sunday from 13 November until 31 December.
Cabinet Member for Finance and Governance Cllr Andrew Barry said: "Our shops and town centre businesses – like those across the country – have taken a hammering this year.
"The aim of the free parking is to boost the local economy both by increasing trade and supporting employment within the town. We hope that by not having to pay for parking or have their time in the town centre limited, shoppers can relax and enjoy our extensive and diverse range of shops, cafés, pubs and restaurants."
Huw Williams, Chair of The Big Heart of Merthyr Tydfil Business Improvement District, said: "This year has been a particularly tough time for our retailers and hospitality businesses, and our residents also desperately need something to look forward to.
"We urge our residents to 'shop safe, shop local, shop Merthyr' over the Christmas period."