Furniture retailer weathers Covid-19 storm to emerge bigger and better
Categories : Press Release
02 Jul 2020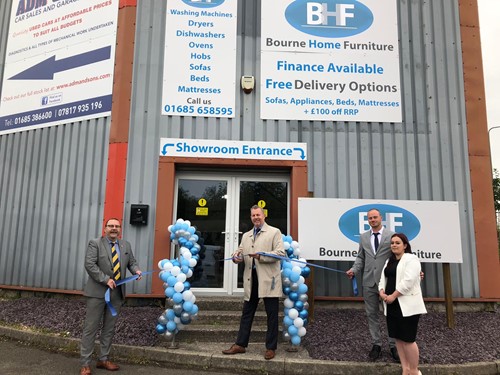 Merthyr Tydfil furniture dealer Chris Bourne's family business has not only managed to survive the challenge from Coronavirus, it's also been able to emerge from it looking stronger than before.
Bourne Home Furniture has moved from its previous location at St Tydfil Shopping Centre's indoor market to much larger premises on Pant Industrial Estate, invested in increased stock and topped up furloughed staff wages to 100%.
Chris was able to do this with the help of a £10,000 Welsh Government Covid-19 Non-domestic rates (NDR) grant and earlier this week, the new warehouse was officially opened by County Borough Council Leader Cllr Kevin O'Neill.
Chris, 29, was originally employed as a sub-contractor on the railways.  "After years of working away and awkward shift patterns, I wanted a change and to spend more time at home with the family, so decided to go out on my own," he said.  "I saved some money and went for it."
He and fiancé Shannon started the business in 2018 and currently employ three other members of staff.  "They've been furloughed during the lockdown and we'll soon hopefully look forward to welcoming them back in to work.  
"The NDR grant helped us advance payments to staff and we were able to keep them topped up to 100% wages, not to impact their and their families' lives during such an uncertain time."
Chris added: "Although we were able to continue to trade via our online service during the peak of Covid-19, we also received help with the move in that it gave us an opportunity to invest in new lines of stock and also fill up the new unit quicker than originally planned." 
Bourne Home Furniture is a family business in every sense of the word, with Chris's graphic designer brother Adam working on the company website and sister Kelly helping out by advertising products on social media platforms.
Sons Leo and Cohen are also joining in: six-year-old Leo often accompanies Dad on deliveries to customers, lighting up their faces with his character and often getting sweets or chocolate as a tip for his help; while Cohen, two, helps Mam in the shop with 'engaging the customers and keeping her on her toes'.
"Since we started the business nearly two years ago, we've had continued support from Merthyr Council in different forms and from different departments," said Chris.
"Particularly so in trying to find larger suitable premises as we outgrew the market stall rather quickly, to where we are now, where the help and support with the grant and opening has all been fantastic."
Cllr O'Neill said: "Not only is it great that Bourne Home Furniture has managed to weather the Coronavirus storm with the help of Welsh Government and the Council, it's brilliant that the business is also going from strength to strength.
"I wish Chris continued success and look forward to seeing Bourne Home Furniture blossoming into the future."
For further information on the support available, please email economicdevelopment2@merthyr.gov.uk