Heavy metal vinyl store becomes Merthyr's latest 'Meanwhile' offering
Categories : Press Release
22 Sep 2020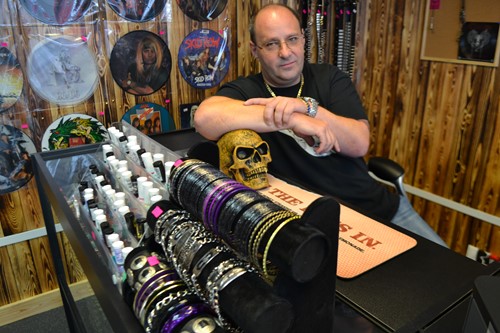 A Merthyr Tydfil heavy metal fan is capitalising on a current revival of interest in the genre and in vinyl records by opening the first new vinyl store in the town in years.
Heavy Metal Merthyr has opened in the upstairs indoor market at St Tydfil Shopping Centre with support from the Council's 'Meanwhile' scheme, a partnership approach improving the appearance of the town centre by bringing empty premises back into use.
Owner Paul Bezant, 46, is passionate about vinyl, heavy metal music 'and all that is entailed with that lifestyle and genre'. A self-taught guitarist, when he was growing up, Paul was a frequent visitor to a town centre music shop that inspired him for the sort of store he wanted to create.
"My USP for my business will centre on the music type and all that goes with it," he said. "People will come for a piece of the 'scene', as well as what is actually for sale. I do regard myself as knowledgeable and accommodating, so will hopefully help customers learn more.
"Vinyl sales growth continues, with the record 9.7 million sales last year and growth of 12%, consistent over at least the last three years. I'll ensure that my market research enables me to pick the vinyl with the greatest demand.
"There is a massive revival in this sector, and – in normal times - events such as Glastonbury and London gigs at Hyde Park headlining more metal artists are adding to the resonance and increased demand for people to buy vinyl and also start to learn and develop guitar skills," Paul added.
"Local events such as Merthyr Rising and acts and bands that are attracted to venues such as Cyfarthfa Castle and Park, the Redhouse and the New Crown are real examples of renewed interest in heavy metal and its associated themes."
The shop will also sell electric guitars by big name brands such as Fender & Jackson (US) & the Japanese Ibanez, Blackstar amplifiers, clothing and other accessories, while Paul is also aiming to eventually become a ticket distributor with promotional events involving local bands.
Paul added: "After many years of heavy drinking, I had a liver transplant, which turned my life around. I started volunteering with Drink Wise Age Well, helping others who were in a similar situation.
"This inspired me to go ahead and start my own business – and prove what's possible if you put your mind to it!"
Under the Meanwhile scheme, the Council's economic development officers, Merthyr Tydfil Enterprise Centre, Tydfil Training, Business Wales and property owners have all joined forces to provide support including preparing business plans and finding short-term low and rent-free accommodation.
Cabinet Member for Regeneration and Public Protection Cllr Geraint Thomas added: "As Paul says, it's plain to see that both vinyl records and heavy metal are enjoying a resurgence in popularity. And town centres in the Valleys need more diverse offerings to encourage shoppers - as opposed to every High Street being the same.
"This is the 19th Meanwhile businesses in Merthyr Tydfil since the scheme began five years ago. This innovative initiative made possible by our hard working economic development team and its forward-thinking partners is helping our town centre continue to grow a culture of niche independent stores that boost our vibrant and varied economy.
"This is our second Meanwhile store in St Tydfil Shopping Centre and we're grateful to the management for their ongoing support and enthusiasm for the scheme."
• If you would like some support from the Meanwhile scheme, please contact Merthyr Tydfil Enterprise Centre on 01685 727509.