High Street Businessman Prosecuted
Categories : Press Release
10 Sep 2018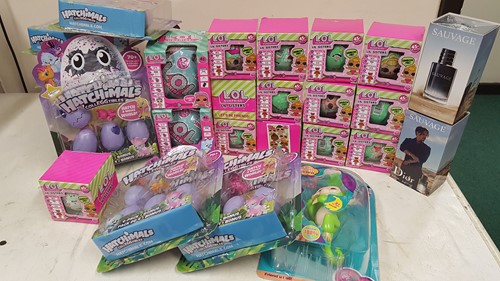 On the 5th September, 2018 at Merthyr Tydfil Magistrates Court, Garry Walker trading as New 4 U, High Street, Merthyr Tydfil pleaded guilty to offences under the Trade Marks Act and Consumer Protection Act. These matters related to the sale of counterfeit toys and men's after shave following an investigation carried out by Merthyr Tydfil Trading Standards Service. 
The court was told that during routine monitoring of social media, the Trading Standards Service discovered a Facebook page for NEW 4 U, which has a shop on the High Street, Merthyr Tydfil, offering for sale toys at prices below market value. 
Covert test purchases were carried out of 'LOL surprise dolls' and 'Finger Monkey' toys which were identified as being counterfeit and not meeting toy safety standards. 
A warrant was then executed at the New 4 U business premises where toys bearing brand names such as 'LOL' and 'Hatchimals' were seized, along with makeup and Christian Dior aftershave. 
Samples of the goods were sent for examination where it was confirmed they were counterfeit.
In sentencing, the Court was particularly concerned that Walker was selling counterfeit toys which had the potential of being unsafe and had the potential to harm children. 
Walker was given a total financial penalty of £2,710 which includes fines, costs and a victim surcharge. 
Paul Lewis, Trading Standards Manager, states: "The sale of Counterfeit goods is not a victimless crime. Our aim is to make Merthyr Tydfil a Fake Free and Safe Town." 
Councillor Geraint Thomas, Cabinet Member for Trading Standards , stated: "The sentence handed down should act as clear warning to any individual considering this type of criminality. A thriving and safe economy requires a fair playing field for businesses to operate. Those who seek to undermine our legitimate traders will be robustly dealt with." 
If you have information on the supply of counterfeit goods, please contact Trading Standards on 03454 04 05 06 or by emailing tstandards@merthyr.gov.uk. All information is treated in the strictest confidence.