Historic church converted into unique apartments in £1.35m revamp
Categories : Press Release
15 May 2019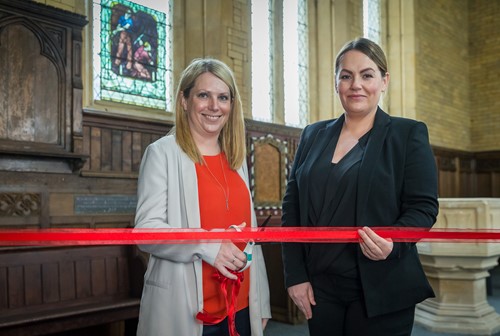 One of Merthyr Tydfil's most historic churches has been brought back into use as residential accommodation after lying derelict for more than 20 years.
The Grade II listed St John's Church in Dowlais, the burial site of former Dowlais Ironworks owner and MP Sir Josiah John Guest, has been converted into 20 unique apartments with the support of Welsh Government funding of £500,000.
Hannah Blythyn AM, Deputy Minister for Housing and Local Government, officially opened Merthyr Tydfil's first residential project under the Welsh Government's Vibrant and Viable Places (VVP) Regeneration and Housing Programme.
The VVP funding, along with £850,000 from local developers Graft Projects, was used to restore the building's roof and exterior walls and complete a full renovation of the interior. Graft also received £150,000 from the Houses to Homes Loan scheme, funded by Welsh Government and administered by the County Borough Council, which is available to assist owners of empty properties with repair and refurbishment costs.
Situated at the corner of Upper Union Street and Church Row within the Dowlais Conservation Area, the Church of St John the Baptist was built in 1827 and closed in 1997.
Many of its original features, such as its stained glass windows, wooden beams and floor tiles – and even the pulpit - have been retained, and members of the public will still be able to access the building at the two main entrances to view a marble memorial to Sir Josiah John Guest and learn about the church's history.
Among the other retained features are a decorative 'Miners' Window', which was financed by the family of Edward Pritchard Martin, General Manager of the Dowlais Iron Company. The Martin family, whose brass plaques and monuments can also still be found in the building, are ancestors of US singer Donny Osmond.
Hannah Blythyn described the project as an excellent example of the benefits the Vibrant and Viable Places programme is bringing to communities. "The development is ensuring the future of a local landmark, providing much needed housing in the area and delivered community benefits including the creation of new jobs and the development of a local supply chain for works to the building," she added.
"The project has also forged links with local organisations such as the Merthyr Tydfil Leisure Trust and Dowlais Library to highlight the historic significance of the church."
Graft Projects Director Emma Thomas said: "This venture has been very gratifying and exciting for us as a company. We've very much enjoyed working with the County Borough Council's regeneration team and Welsh Government, who both gave us great support that was very much appreciated.
"Bringing this building back to life was our goal, which was a real challenge - but the history of it was an inspiration," she added. "The local interest has been amazing too, with many residents and ex-worshippers coming to visit during the build.
"Our other goal was to provide excellent living accommodation, which we feel we have achieved. We think the variety in design will appeal to all types of individuals and families.
"Most of all, we hope as a company that we've contributed to our community in terms of employment, developing suppliers and providing apartments for modern living."
Merthyr Tydfil County Borough Council Chief Officer for Community Regeneration Alyn Owen said: "The VVP Programme helped the local authority and Graft Projects to secure finance for the redevelopment of this key historic building - a fantastic achievement with the church having been derelict for such a long period of time.
"Graft have been sympathetic to the stunning features of the property to ensure its character remains and each unique apartment has been finished to a high standard," he added.
"The VVP programme has been a huge success in Merthyr Tydfil, creating over 100 jobs, delivering a number of affordable and market housing units and bringing key derelict sites and listed buildings such as this one back into use."
• The apartments are now available for rent: one-beds cost from £395 to £490 per calendar month, and two-beds are £550 per calendar month. Further information is available from Emma at Bidmead & Cook on 01685 388106.