Huge response to tunnel reopening survey
Categories : Press Release
02 Apr 2020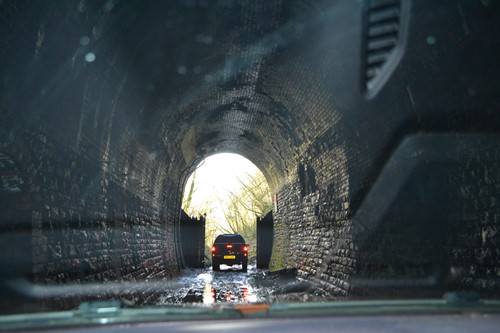 A consultation exercise asking Merthyr Tydfil and Rhondda Cynon Taf residents if they would like to see the reopening of the Abernant Tunnel has had a massive response.
Almost 800 people completed the councils' online survey on plans to improve transport links between the two towns, including possibly reopening the disused tunnel for walking and cycling.
At 1.4-miles, Abernant is one of Wales's longest disused railway tunnels. If reopened, it could provide a traffic-free and direct cycling route of around four miles between the two town centres, reducing the current journey by around three miles.
Merthyr Tydfil and Rhondda Cynon Taf County Borough Councils are working together with the aim of making the journey easier for people who travel between Aberdare and Merthyr Tydfil for reasons including work, education, shopping and entertainment.
Survey respondents were particularly keen on the possible exercise benefits and the safety of the route, with comments including:
"Less traffic, more exercise. It's a great idea to open the tunnels to active users - more of this in Wales is needed. Lots of people work between the Valleys, not just down and into Cardiff. It's a no brainer in my opinion.
"The tunnel would be a brilliant feature for both Valleys and I'd use it for running and cycling, not just to get to and from the two towns.
"Unless you are young or super fit, the only walking or cycling options are up and down the valley. Opening the tunnel would be wonderful.
"I think opening the tunnel would ease the ever increasing traffic on the treacherous Baverstocks Road. I am a keen cyclist and a father of a seven-year-old who is bike-mad. We love cycling together but I do ensure we only cycle on safe cycle networks such as the Taff Trail. The tunnel would be ideal, as it is away from any traffic."
Some respondents also described the tunnel as a heritage asset and potential tourist attraction:
"I believe the Valleys don't have a lot to offer people since the heavy industry days, other than their outstanding landscape and deep heritage. We should do everything we can to preserve and capitalise on our heritage. I think the tunnel would be a great attraction for tourists.
"This would be a fantastic opportunity to encourage more people of all ages to enjoy the wonderful landscape of our Valleys. It's also free to walk, run or cycle on what would be a safe and beautiful route from Aberdare to Merthyr.
It's an ideal opportunity to share the history of our Valleys within both communities and to welcome new visitors from near and far.
"It would be great to see the tunnel open again for the public to walk and cycle through. It is about time we tried to save and use some of our industrial past treasures. Make the tunnel safe, secure, with solar lighting throughout, and let's get on with it. We will love it!"
The Isambard Kingdom Brunel-designed structure was built as part of the railway service between Merthyr Tydfil and Neath in 1853, and the last train ran through it in 1962.
In 2019, Welsh Government announced an extra £60m investment in active travel across Wales over three years. With Welsh Government Local Transport Fund (LTF) support, Sustrans Wales was commissioned to carry out a development study looking at the condition, potential maintenance and running costs and ownership of the tunnel
Merthyr Tydfil CBC's Cabinet Member for Regeneration and Public Protection Cllr Geraint Thomas said the response to the survey had been expected.
"We knew that residents were excited about the prospect of the reopening, so we thought they would get involved," he added. "The next steps will be to look at all the comments, both positive and negative, and then carry out further analysis of maintenance/running costs and a full detailed business plan.
"The consensus appears to be very much in favour of reopening, but there are many factors to take into account, including initial and ongoing costs. As soon as we have a clearer idea of workable plans, we'll be reporting back."