Interactive map pinpoints all Merthyr's visitor attractions
Categories : Press Release
17 Oct 2019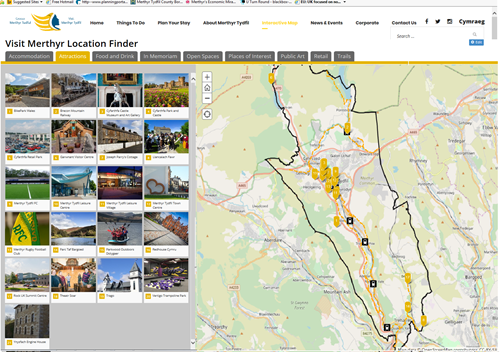 Visitors to Merthyr Tydfil who want to become more familiar with the county borough will be able to pinpoint exactly where they need to go through a new interactive website map.
The Visit Merthyr Location Finder put together by County Borough Council's Destination Management team allows users to find everything from places to stay and tourist attractions to food and drink options, shops, trails and even public works of art.
The website has more than 230 listings, including accommodation ranging from Visit Wales four-star rated B&Bs to camping, glamping and bunkhouses; visitor attractions such as outdoor activity centres and listed heritage buildings; fine dining restaurants and takeaways; indoor and outdoor markets; lakes, parks and walking routes.
"The map is one of a number of tourism marketing platforms just launched by the Council to ensure visitors have the information they need to make the most of every trip here," said Cabinet Member for Regeneration and Public Protection, Cllr Geraint Thomas.
"In addition to the Visit Merthyr website, these include a Visitor Guide, Facebook page and Twitter and Instagram accounts.
"Having lived in Merthyr Tydfil all my life, I'm aware of the vast majority of what we have to offer – but even I was surprised to discover the breadth of accommodation choices, for example.
"We also have new restaurants, bars and shops opening on a regular basis – definitely bucking the trend for Valleys towns – and in this sense, the map is handy for residents as well as visitors."
The map is on the Visit Merthyr website and available at visitmerthyr.co.uk/map-page
"We're very pleased with the map's contents so far, but there will inevitably be a few things that we've missed," Cllr Thomas added. "It's a live mapping system which will be continually evolving to reflect changes in the industry.
"We'd be delighted to hear from anyone who has some information or places to add to it – and we'd particularly welcome any new images to further enhance it."