Leader goes back to school to learn about the Wizard of Oz!
Categories : Press Release
26 Jan 2021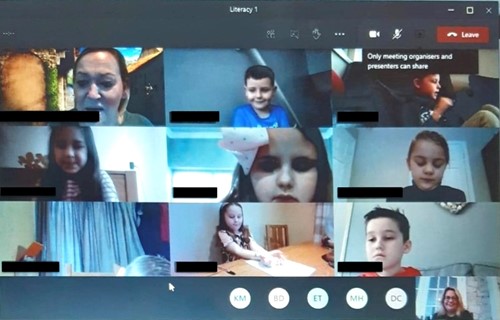 The Leader of the Council found out this morning what it's like for pupils to be educated online when she sat in on a live lesson for one of our primary schools.
Cllr Lisa Mytton, who is also Cabinet Member for Learning, was invited by Troedyrhiw Primary School to take part in a lesson and joined Ms Charles's Year 3 Class.
"The children and I found out that the Wicked Witch of the West was after a young lady called Dorothy and her dog Toto. The witch made an appearance and we couldn't believe our eyes!
"The children decided that after recently learning how to be news reporters, they needed to write a news report on this and produce a 'Wanted' poster to warn Dorothy!"
Ms Charles and Ms Callan asked the class questions about how they would do this and the children said that they needed to use a structure, describe the Witch using adjectives, and also use bold headlines, descriptive words and alliteration.
"It was a great opportunity for me to see this interaction, and every child was engaged and so well behaved with their morning registration and the Teams function's use of muting voices and putting up hands," said Cllr Mytton.
"It's been such a difficult time for all, so I just want to take this opportunity to thank not only Ms Charles and Ms Callan and the pupils at Troedyrhiw, but also all our teaching staff, Learning Support Assistants, parents trying to help with home schooling and last - but not least, of course - the children.
"Keep up the good work all of you – you're doing a fantastic job!"