Learning about construction is child's play for pupils
Categories : Press Release
06 Nov 2019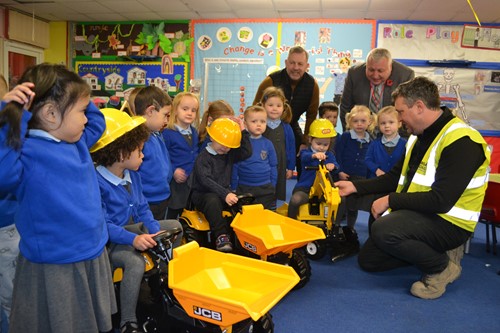 Pupils at two Merthyr Tydfil primary schools are learning about the world of work early with the help of a set of mini construction plant donated by the team building the new bus station.
St Mary's Catholic and Caedraw Primary Schools, which are directly opposite the new station site, have taken delivery of micro excavators and tipper trucks from principal contractor Morgan Sindall.
The children lost no time in trying out the 'vehicles' under the supervision of Project Manager Ross Williams, County Borough Council Leader Cllr Kevin O'Neill and Cabinet Member for Regeneration and Housing Cllr Geraint Thomas.
"We understand that children in the younger age classes learn through play and we wanted to do something that supports this and links to our project," said Ross.
"The toy machinery is mainly for fun, but it also serves a useful educational purpose in introducing the pupils to the world of construction. It was surprising that a couple of them already knew the word 'digger' - given that they're only three and four years old!"
• The new Merthyr Tydfil bus station is currently being built on the site of the former police station in Swan Street, with an expected completion date of autumn 2020.
Welsh Government has awarded the County Borough Council £10m funding for the station, which will be located closer to the town's railway station, to complement its significant investment in the Core Valley Lines Rail Network.