Make-up expert Jessicca feels Effect of business support scheme
Categories : Press Release
17 Nov 2015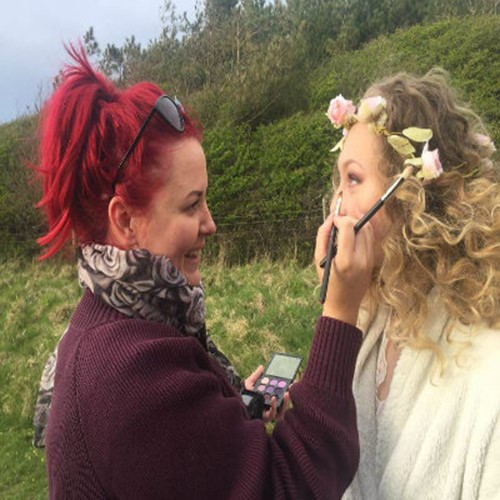 A Merthyr Tydfil make-up artist is in demand with celebrities across the UK who call on the services of an élite team established to work purely with VIPs.
Among the clients of former Ysgol Gyfun Rhydywaun student Jessicca Pulman is songwriter Amy Wadge, who co-wrote worldwide smash hit record Thinking Out Loud with Ed Sheeran.
The 29-year-old has also worked on photoshoots for designers exhibiting collections at Paris Fashion Week, and her reputation as a highly sought-after bridal make-up specialist means she already has bookings up until 2017.
Jessicca set up her business in 2013 and has been supported in getting established by a network of local experts put together by a Welsh Government initiative, Effect (Enterprise facilitation for effective community transformation).
She is among a series of aspiring entrepreneurs in Merthyr Tydfil, Torfaen, Blaenau Gwent and Bridgend being advised by professionals from the private, public and voluntary sectors - with skills ranging from accountancy to marketing - to help develop their business plans.
Twenty six jobs and 20 new businesses have been created and more than 74 clients supported by the Effect Merthyr Tydfil project, funded by the Welsh Government Business Wales team and Communities First project.
Effect Merthyr Tydfil Enterprise Facilitator Jared Green said the aim was to introduce people with business ideas to the Effect panel, which could help them with any problems they could be experiencing in starting-up - such as finding finance or premises.
"Wemeet clients wherever they want - often in cafés and other public places - so that the environment is right for them," he added. 
Jessicca said: "Being a hair and make-up artist is, without question, a dream come true - but being self-employed is quite another thing! I wouldn't change it for the world, but being a one-man band requires some major multitasking.  
"Effect has been one of my secret weapons, supporting me with all the 'boring' yet essential stuff that I really struggle with. I rely on Jared mainly for IT and marketing support, although he's also great person to sound out ideas with - and I'm sure I'll have a thousand other issues to run by him as the business continues to expand."
Although she graduated from Glamorgan University with an honours degree in criminology and sociology, Jessicca had excelled in art and design at school.  While spending time travelling in Dubai, Australia, New Zealand and South East Asia, she decided to make the most of her time in Perth and enrolled to study make-up artistry at the Western Australia Academy.
After securing a position at MAC Cosmetics in Sydney, working alongside senior artists on shows such as Australia's Next Top Model, she returned home and found herself immediately inundated with bridal bookings, kick-starting a freelancing business.
Since being home in Wales, Jessicca counts as one of her greatest achievements being selected to join the MACH team, created and managed by celebrity make-up artist Claire Hanson. This comprises the most élite artists in the business, selected personally by Claire to represent her when she is on tour with her main client, Lionel Richie.
"Claire's clients are some of the biggest celebrities in the world, and I feel very privileged to be working with them across the UK," said Jessicca.
A recent new addition to her business is a semi-permanent eyebrows cosmetics service. Jessicca is the first person in Wales to have trained in Epibrow 'microblading', an innovative new method of creating fine, realistic, hair stroke-looking eyebrows, first brought to the UK in 2014.
Enterprise Facilitation was founded by Italian Dr Ernesto Sirolli, who devised it in 1985 as a way for local communities to support and help would-be entrepreneurs and existing small and medium-sized business. Since then, the model has been adopted in more than 250 communities worldwide.
"We've found that Effect helps communities to approach problems in a business-like manner, stimulates local passion and creativity to develop businesses that create jobs and produces visible success stories providing a tangible demonstration of what can be achieved to others in the community," said Jared Green.
"It has also been shown to consistently diversify the local economy, create a local network helping public sector partners engage with the business community and leave a legacy of entrepreneurial know-how among all participating partners."
If you live in Merthyr Tydfil and have a great business idea but need some help with it, call Jared Green on 01685 724919 or 07730 283812; email  jared.green@merthyr.gov.uk 

For more information on Jessicca, visitwww.jessiccapulmanmua.co.uk