Merthyr 'model' will help military in rollout of mass testing across the UK
Categories : Press Release
08 Dec 2020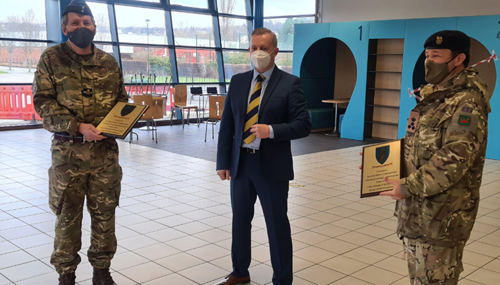 Wales's most senior army officer has praised the people of Merthyr Tydfil for their support in the current mass Covid-19 testing programme, saying their keenness to make it a success would help in the subsequent rollout across the UK.
Commander of the 160th Welsh Brigade/Joint Military Command Wales, Brigadier Andrew Dawes CBE was at Merthyr Tydfil Leisure Centre to see how the RAF were supporting partners in delivering testing.
He described Merthyr Tydfil as 'a vibrant community that wants to get involved and sees the benefits of testing' and added: "It's been a fantastic achievement for the whole community."
Brigadier Dawes was accompanied on his visit by Senior Royal Air Force Officer Wales Air Commodore Dai Williams, who were both given gifts of Merthyr Tydfil-themed mementoes by County Borough Council Leader Cllr Kevin O'Neill, Chief Executive Ellis Cooper and Deputy Chief Executive Alyn Owen. 
Gifts were also given to the other personnel present, including Squadron Leader Phil Todd, RAF Detachment Commander, and Major Peter Harrison, SO2 Engagement (Diversity and Inclusion) 160th (Welsh) Brigade.
 
Cllr O'Neil said he had been impressed by the 'excellent military presence'.  He added: "The officers have been firm, fair and engaging, and demonstrated a strong appreciation and understanding of community spirit."
Brigadier Dawes said the RAF officers who had supported the testing were thoroughly enjoying their time in Merthyr Tydfil and the experience would help in rolling out the model elsewhere.
"This is an extraordinary thing for Merthyr Tydfil to have done and we're very proud to have been involved in it," he added. "It will be known as the Merthyr Model."
As of December 6, there had been 22,331 tests of people with no Coronavirus symptoms in centres across Merthyr Tydfil since mass testing began on November 21, with 280 people having had positive results.  The testing will continue until December 10.