Merthyr Tydfil celebrates decade of youth mayors with portrait gallery
Categories : Press Release
19 Jun 2019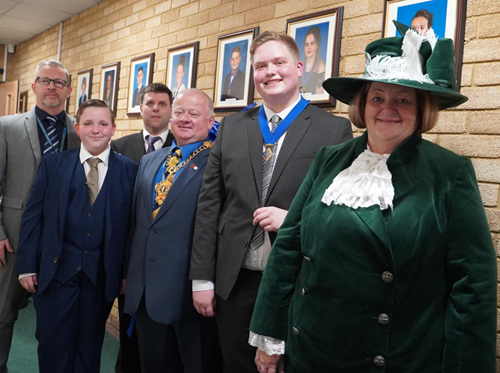 A proud record of supporting a decade of youth mayors has been celebrated with the unveiling of a gallery of portraits at Merthyr Tydfil Civic Centre.
The County Borough Council marked the 10th anniversary of the inauguration of its first youth mayor by inviting the current and previous nine officeholders to attend the event.
The Council's Children & Young People's Champion, Cllr Chris Davies said: "I'm delighted that we've been able to work with the Youth Cabinet and Merthyr Tydfil Borough Wide Youth Forum to host and celebrate 10 years of the Youth Mayor initiative.
"The photographs of the 10 youth mayors take pride of place on the committee rooms corridor in the Civic Centre. I want to confirm the Council's commitment to our continued work with our young people and to progressing and increasing the participation agenda across the county borough."
The creation of the role was instigated by the Borough Wide Youth Forum (MTBWYF), whose Youth Cabinet makes sure young people's voices are heard and make a difference to services for young people.
Young people aged 11 to 23 can nominate themselves as a candidate for the youth mayor's role. The post holder acts as a role model for young people and attends functions and events alongside the adult mayor.
At the celebration event, former Youth Mayor Lauren Davies said many local authorities were scrapping the role, but Merthyr Tydfil was fighting hard to support it and give a voice to young people.
Current Mayor Krystian Maciejczyk said the work being done by the young people of Merthyr Tydfil made them stand out from other county boroughs, but would not be possible without support from the local authority and its youth services.
Krystian, a former head boy at Bishop Hedley High School, added that being of Polish heritage had made him pledge at his inauguration to change perceptions on immigration and raise awareness of homelessness and human trafficking.
He said that the Youth Forum was currently working on a mental health toolkit, which was being launched at Redhouse Cymru on 3 July.
Other guests at the celebration event included High Sheriff of Mid Glamorgan Mrs Tina Donnelly, Merthyr Tydfil Mayor Cllr Howard Barrett and Council Leader Cllr Kevin O'Neill.
Merthyr Tydfil Youth Mayors 2009- 2019
2009-2010 Amy Louise Williams
2010-2011 Jamie Rhys Scriven
2011-2012 Sarah-Jane Williams
2012-2013 Daniel Walsh
2013-2014 Shaunaleigh Llewellyn
2014-2015 Ethan Scriven
2015-2016 Sacha Thomas
2016-2018 Lauren Jessica Davies
2018-2019 Jenna Noble
2019-2020 Krystian Maciejczyk