Merthyr Tydfil eco-refill shop leads the way in anti-plastic drive
Categories : Press Release
13 Oct 2020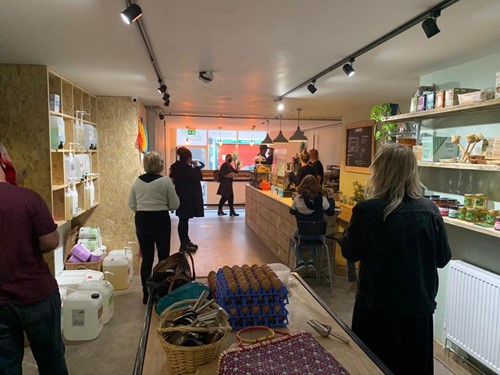 Merthyr Tydfil is saying hello to its first shop allowing customers to 'finally say goodbye to disposable, single-use plastics'.
Eco-refill shop Green, which has opened in Glebeland Street, is selling refill goods including cleaning products, cosmetics and food such as sandwiches, coffee, cakes and soft drinks. Customers will be able to refill their jars and containers and the cost of the product will be measured by the weight of the refill.
Business owner Siân Bullen was supported in setting up Green by Merthyr Tydfil County Borough Council's 'Meanwhile' scheme, a partnership approach improving the appearance of the town centre by bringing empty premises back into use.
The Council's economic development officers, Merthyr Tydfil Enterprise Centre, (MTEC), Tydfil Training, Business Wales and property owners have all joined forces to provide support including preparing business plans and finding short-term accommodation.
"In today's world, plastic waste has become a serious issue that needs to be addressed," said Siân. "Green is going to be plastic-free and have zero-waste, allowing customers to finally say goodbye to disposable, single-use plastics.
"The food items will also include organic vegetables and dried food produce and a range of vegan produce, including a vast selection of alternative milks and cheeses. So customers will be able to engage and understand ways in which they can do their bit for a sustainable healthy planet for future generations."
Siân has experience in the hospitality sector running busy restaurants, and her last role was acting as a consultant to businesses ranging from pubs, cafés and pizza restaurants to a nursery school.
Cabinet Member for Regeneration and Public Protection Cllr Geraint Thomas said: "This is the 20th Meanwhile businesses in Merthyr Tydfil since the scheme began five years ago.
"We're delighted to welcome Siân to the town centre and are proud to be hosting the only refill shop for miles around. Merthyr is known for its growing and diverse food offer and it's great to see that being enhanced by a project that is selling healthy and sustainable food that will not only benefit individuals, but also the planet itself."
If you would like some support from the Meanwhile scheme, please contact Merthyr Tydfil Enterprise Centre on 01685 727509.