Merthyr Tydfil flying flag for Welsh language with help from Ffos-y-fran
Categories : Press Release
12 Apr 2019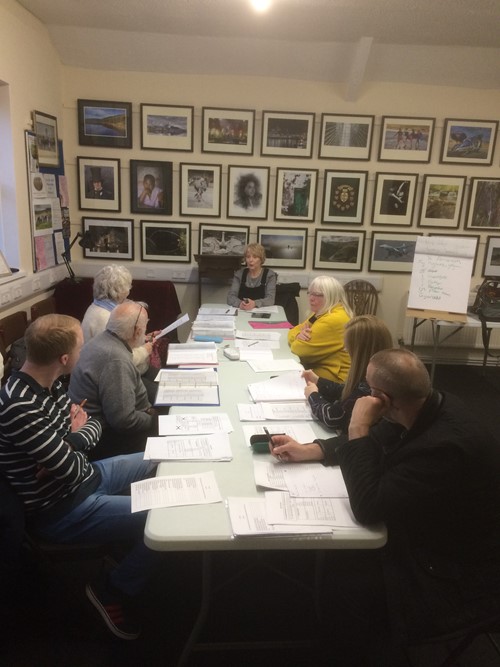 The revival of the Welsh language is continuing to go from strength to strength in Merthyr Tydfil with the formation of a weekly class where fluent speakers help new learners use Welsh as part of their everyday lives.
Clwb Dysgu Cymraeg Calfaria, based in Heolgerrig, was recently awarded £2,000 from the Ffos-y-fran Intermediate Fund for two years' room hire at Calfaria Chapel and tutor costs.
The class, which began at the start of the year, currently has 18 members aged from early 20s to late 70s. They spend an hour chatting, learning the language as a group, and then talking about Welsh heritage, literature, music and history, while enjoying a cup of tea together.
"The club promotes the use of Welsh, while at the same time providing a place for people to meet, learn and socialise in their own community," said Chair and tutor Helen Protheroe. "The aim is to raise confidence and broaden horizons through the learning and use of the Welsh language and heritage.
"The class is contributing to the 2050 Million Welsh Speakers, Welsh Government's target of a million people being Welsh speakers by 2050," she added. "The language plays an important role in life in Wales, including our economy, health, education and regeneration. Learning new languages can make us more open to other cultures."
One of the group members and enthusiastic learner is local resident Cllr Geraint Thomas, who is also Merthyr Tydfil County Borough Council's Welsh Language Champion.
"Calfaria Chapel is the perfect meeting place as it's right in the centre of the village," he said. "This is a community class that's very informal, yet extremely informative. People are able to chat in Welsh with friends, relatives and neighbours – and that's a real confidence booster."
The Ffos-y-fran Intermediate Grants Scheme offers grants up to £5,000 for projects that help create a 'strong, sustainable and diverse economy', support people in developing new skills to maximise their potential, and contributes to making Merthyr Tydfil a more 'vibrant, attractive, safe and sustainable place' to live.
The programme was established by Merthyr Tydfil County Borough Council in collaboration with Merthyr (South Wales) Limited, which donates £1 for every ton of coal sold from the Ffos-y-fran land reclamation scheme.
• Clwb Dysgu Cymraeg Calfaria meets at Calfaria Chapel, Heolgerrig, every Tuesday, from 7-8.30pm. If you would like to join, either just drop-in or contact the group via its Facebook page.