Merthyr Tydfil pupils better-informed on 'life issues' as result of annual conference
Categories : Press Release
15 Nov 2019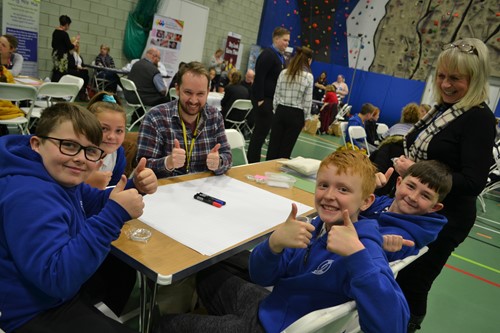 Merthyr Tydfil's pupils are better informed about life issues and how to cope with them following the county borough's annual student conference.
The 2019 Secondary and Primary Student Council Conference gave the children and young people the opportunity to learn about and voice their views on topical matters, as well as helping inform planning for the future.
The event took place at The College Merthyr Tydfil and featured presentations and workshops on a range of themes including exploitation, mental health, resilience, bullying, different diets, the environment, celebrating diversity, relationships and racism.
"Our students appreciate the conference giving them the chance to examine life issues and discuss how to cope with them," said County Borough Council Inclusion Manager Sarah Bowen. "They leave feeling better informed and reassured that they'll have support to face any difficulties they might encounter."
Officers from the Council and partners from a wide range of organisations gave talks and hosted workshops including Eco Schools, South Wales Police, School Nurses, Healthy Schools, Dietary Needs, Show Racism the Red Card, Youth Service, Hate Crime, Safer Merthyr, Kidscape, Healthy Schools and Merthyr Tydfil Youth Forum.
There were also fantastic 'rock and pop' performances from all four mainstream secondary schools.