Merthyr Tydfil's high street experience among the UK's best
Categories : Press Release
16 May 2019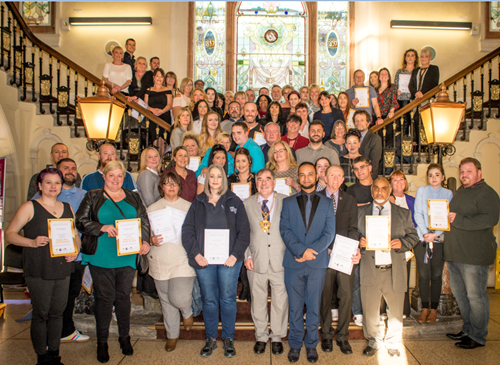 Merthyr Tydfil businesses have been rewarded at a presentation evening recognising their efforts in helping make the high street one of the UK's best for customer satisfaction.
The latest research by mystery shopping specialist company Storecheckers ranks Merthyr Tydfil alongside the highest performing town centres across the country, with a combined score of more than 80% from assessors who visited 152 premises.
Jointly organised by The Big Heart of Merthyr Tydfil Business Improvement District and the County Borough Council, the mystery shopper survey judged businesses on detailed criteria including:
• overall appearance of the building exterior
• quality of the window display
• display of products inside
• initial contact and welcome
• product knowledge
• staff image
• environment and toilet facilities
• local knowledge
• parting gestures
The presentation ceremony took place at the REDHOUSE Cymru, where awards were given in three categories - Retail, Hospitality and Health & Beauty – with businesses receiving a platinum, gold, silver or bronze award.
One assessor commented about their experience: "There was not, at any point, anything I could fault with him for service. The atmosphere was warm and inviting with background music, adequate lighting and temperature, and a background hum of jovial customer's conversations."
A total of 13 businesses achieved platinum awards: O2, A Better World Comics & Games, H Samuel, Simon Jones Cars, B & M Express, Tesco Extra, Merthyr Flooring Centre, Ladybirds Hair Centre, 2's Company (formerly Robert's), Mon Cheri Hair, Toffs Hair Studio, Trendz of Merthyr and Caffi Soar. A further 112 businesses received gold, silver and bronze awards.
A special presentation was made on behalf of the town centre to Rob Holdaway, the owner of the newsagent kiosk in the bus station for some 40 years. In presenting him with the Special Recognition Business Community Award, Merthyr Tydfil Town Centre Partnership Chair Paul Gray commended his commitment to town centre initiatives including the Town Centre Partnership and PACT over many years and his unstinting support for the development and regeneration of the town.
Big Heart of Merthyr Tydfil Chair Carl Mason said he was delighted both with the increasing number of traders gaining awards and with those achieving the highest standards.
"Today's ceremony highlights the excellent overall experience and service that customers receive and shows how well Merthyr is adapting to the challenges of today's business environment where excellent service is a key ingredient to success on the high street."