Merthyr Tydfil's role in ambitious Atlantic Area Programme trails project
Categories : Press Release
23 Jul 2019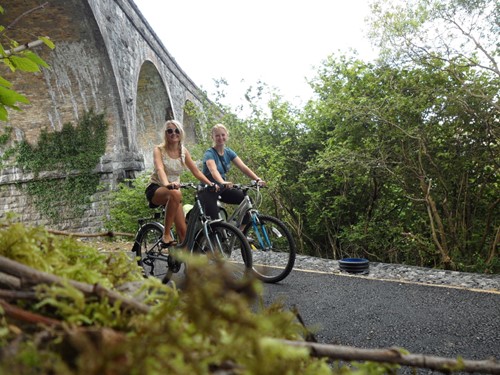 Merthyr Tydfil County Borough Council is playing a prominent role in an international initiative aimed at encouraging visitors and residents to make the most of the environment on their doorsteps.
The EU-funded Atlantic Area Project, the Trail Gazers Bid, is planning to find new ways to encourage people in the UK, Ireland, Spain, Portugal and France 'off the paths and into the surrounding local and rural communities to immerse themselves in new cultural, culinary and life experiences'.
Local and regional community groups, small businesses, tourism providers, schools, environmental agencies, local authorities and members of the public will all be encouraged to come together to work on developments including:
• Business to consumer initiatives that will encourage visitors to explore what the wider hinterland has to offer, such as cafés, craft shops, artisan foods, hotels, pubs, historical places of interest and the landscape.
• New virtual tourism initiatives showcasing all the regions' natural and cultural assets to wider audiences.
• Sustainable destination management plans that protect these assets.
The project, which was launched in Buncrana, County Donegal, is supported by the European Regional Development Fund and has 10 partners from the different Atlantic regions.
"All of the project partners are passionate about examining how the right type of investment in walks and recreational trail can grow small communities and increase the number of visitors," said County Borough Council Cabinet Member for Regeneration and Public Protection Cllr Geraint Thomas.
"Recent years have seen a growth in the number of people preferring to spend their holidays enjoying more meaningful and personal experiences in beautiful locations that are often perceived as off the beaten track, rather than in conventional or popular holiday destinations.
"There's been an increase in the number of recreational tourists enjoying the many trails across the Atlantic Area region.
Cllr Thomas said the growth in walking and recreational activity had huge potential to generate income, helping to create more jobs in the hospitality and leisure sectors, while also enhancing the attractiveness of the regions as places to live, work and thrive.
"Our aim in Merthyr Tydfil is to particularly focus on the Taff Trail and the myriad opportunities it presents - not only for people to enjoy its stunning scenery, but also to help local businesses take advantage of the increase in visitor traffic."
If you're interested in finding out more about this project or how to become involved please contact visit@merthyr.gov.uk