Merthyr Tydfil sees first mass schools testing across Wales
Categories : Press Release
30 Nov 2020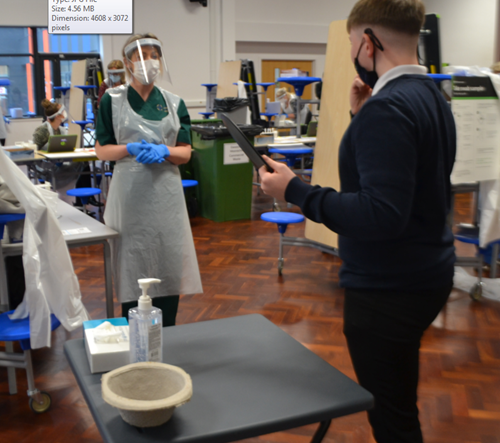 Thousands of pupils at Merthyr Tydfil's comprehensive schools have been spending today (Monday, November 30) getting tested for Covid-19.
Rapid turnaround tests were offered at Afon Taf High, Bishop Hedley High, Cyfarthfa High, Pen-Y-Dre High and the Ty Dysgu Pupil Referral Unit as part of the county borough's mass coronavirus testing programme.
All five reported an uptake of around 80%, with more pupils due to be tested tomorrow.
Around 90% of pupils at Afon Taf High School were being tested today. Of the remaining 10%, many are in classes that are currently self-isolating due to four positive cases last week.
Headteacher Stuart James said that by lunchtime, more than 250 of the 500 students expected to be tested had returned negative results.
"I think pupils and parents want to know so that they can safely mix with relatives like their grandparents and other vulnerable family members," he added. "And also because they want to play their part in helping stop the spread of the virus."
He said that the pupils had been 'compliant with and confident about the testing process' and that it was quicker and not as traumatic as they may have earlier thought.
"They've been taking it all in their stride. They're just relieved to have done it and even more so when their tests return negative."
Greenfield Special School carried out the first mass school testing in Wales last week, with nearly 80% of the secondary aged pupils at the school having a test. All came back negative.
The Council's Chief Education Officer Sue Walker said she hoped the testing would help keep schools open by identifying asymptomatic cases if there were any.
"The aim is, if we can get some process in place, to keep schools open for the continuity of learning and emotional wellbeing of pupils."