Merthyr Tydfil to host Royal Welsh St David's Day parade
Categories : Press Release
12 Feb 2020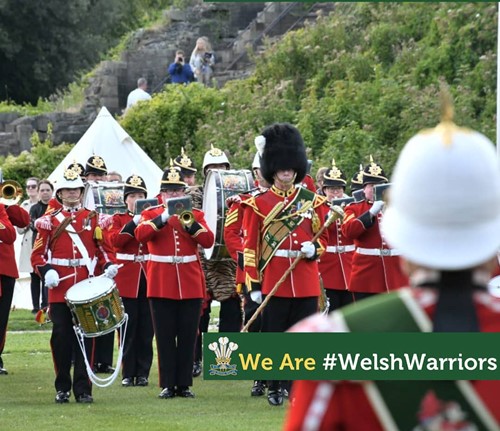 Merthyr Tydfil has been chosen as the venue for this year's annual St David's Day parade by the 3rd Battalion, The Royal Welsh.
The military march through the town centre on Saturday 29 February will be the highlight of an exciting day of celebrations including Welsh-themed food, crafts and gift stalls and entertainment provided by Tom Jones and Shirley Bassey tribute acts.
"The County Borough Council is very proud that we've been selected to host the parade and we hope our residents will come along to witness it and be part of the celebrations," said Council Armed Forces Champion Cllr Andrew Barry.
"This prestigious event will mark both St David's Day and the Reaffirmation of the Freedom of the County Borough, which was granted to the Regiment in 2011."
The parade, led by the Regiment's mascot Shenkin IV, will assemble at Llys Janice Rowlands/Janice Rowlands Square at 10.30am and finish in front of Merthyr Tydfil Central Library for the inspection of the Guard.
There will also be military stands, displays and other Armed Forces information on Penderyn Square throughout the day.
St Tydfil Shopping Centre and The Big Heart of Merthyr Tydfil/We Love Merthyr begin their annual programme of pop-up events for 2020 with their popular Welsh Fayre.
On offer will be a range of locally sourced stalls including food, crafts, and gifts, with Tom and Shirley tribute acts providing the fitting musical backdrop of some of their best loved songs.