National Apprenticeships Week 2021
Categories : Corporate
10 Feb 2021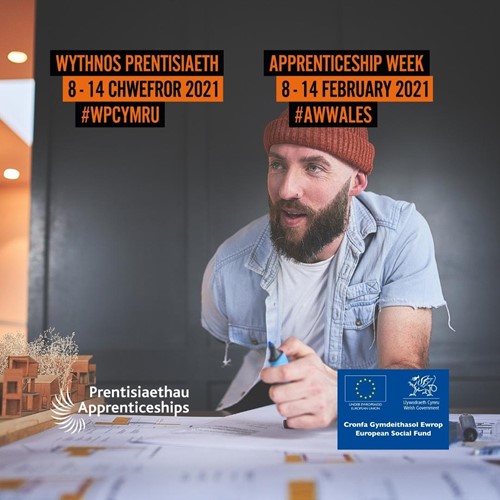 This week marks National Apprenticeships Week 2021, which is an opportunity for organisations nation-wide to address one of the biggest challenges facing them: the shortage of skilled employees.
Apprenticeships can provide a cost-effective way of attracting and invigorating new and existing talent, to ensure future success, and Merthyr Tydfil County Borough Council (MTCBC) is committed to supporting apprenticeship programmes across the county borough -- both internally and externally.
Why apprenticeships?
Apprenticeships give us a comprehensive, but flexible, training framework leading to nationally recognised qualifications, which can support all our team members at all levels; improving their performance and demonstrating their competency to enhance the service they deliver to you.
It is crucial that our staff members are developed to the best of their ability, and we have previously done this using the structure of an apprenticeship programme.  MTCBC has seen considerable success in up-skilling employees by studying apprenticeships ranging from ICT, Management, Team Leadership and HR to Civil Engineering, Building Control, Horticulture and Construction.
What do our staff think of their apprenticeships?
Arwel Hughes is studying for a Level 3 Diploma in Civil Engineering. He said:
"I cannot praise the apprenticeship enough really, I've learnt so much since I started a year and a half ago; it's unbelievable!
"And since starting my apprenticeship I've been told by many people about how I've benefitted through taking the apprenticeship route rather than the educational route, because 'experience is everything' according to many in this industry.
"I've had a team of passionate colleagues around me throughout willing to help me with the smallest of queries at a drop of a hat, and it's only due to that I learn more and more by the day."
Ryan James is studying for a Level 5 qualification from the Institute of Leadership & Management. He said:
"The ILM qualification was a flexible, structured way of learning without having to attend college. The qualification is internationally recognised and it has helped develop my skills, experience and future career prospects.
"The tutor was supportive throughout the apprenticeship and helped to ensure that I picked modules that were relevant and customised to my development needs."
Continuing to support apprenticeships
Over the next few months we look forward to sharing more exciting developments with you on our apprenticeship journey.