New bus station gets bottle-filling machine after pupil pressure
Categories : Press Release
31 Mar 2021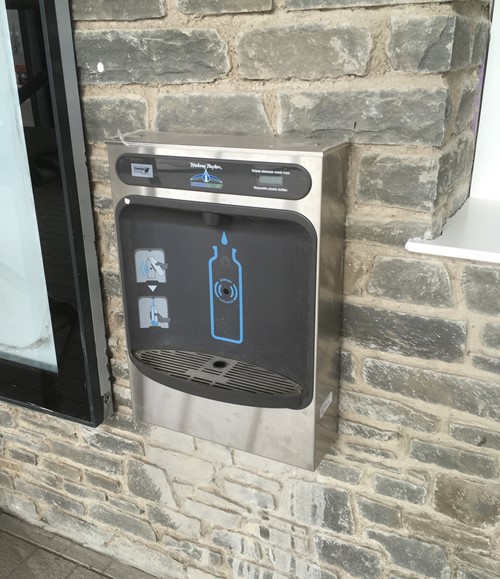 Merthyr Tydfil's new bus interchange now features a water bottle-filling station after pressure from local primary school pupils convinced councillors of its need.  
Seven members of St Mary's Catholic Primary School's School Council took part in a Teams meeting with the Cabinet to pitch their idea in an online presentation earlier in the year.
The school was the first in Merthyr Tydfil to achieve UNICEF's Rights Respecting School GOLD Award, in 2018, and the 10 and 11-year-old pupils persuaded councillors that the availability of fresh drinking water was essential to people's health and wellbeing.
"The unit has now been fitted in the concourse at the new station," said Ross Williams, Project Lead with main contractor Morgan Sindall.  "This is entirely down to the hard work, passion and teamwork of the St Mary's School Council and their commitment to positive change.  
"The School Council had worked hard on their presentation, researched all angles with diligence and were thorough.  There were clear signs that all people were considered and it was not simply from the perspective of themselves - and they truly represented the local community and others."
Welsh Government awarded the County Borough Council £11m funding for the interchange, which is located closer to the town's railway station, to complement its significant investment in the Core Valley Lines Rail Network.
Work on the station is on schedule for completion in May.