New hope for homeless young people with project launch
Categories : Press Release
21 Apr 2020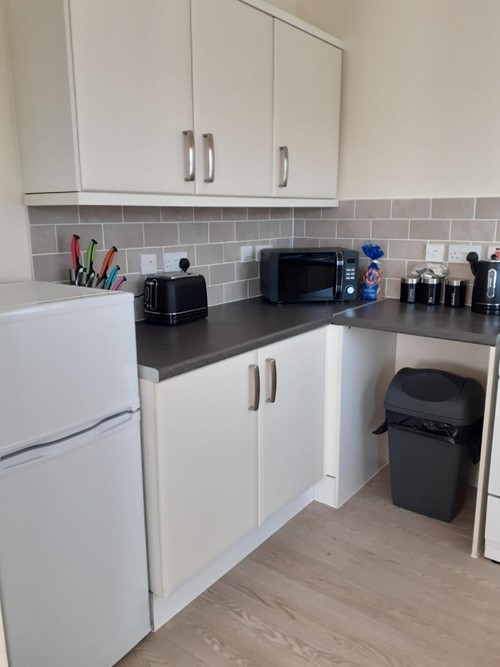 Following the launch of Merthyr Tydfil's innovative Housing First project, set up as part of the Council's campaign to tackle homelessness, there is now also dedicated support for young people aged 16-25.
With the help of grant funding from Welsh Government, the first resident of the Housing First for Young People initiative has moved into their new accommodation - a fully furnished flat provided by Wales & West Housing.
The scheme is aimed at young people who are homeless, or at risk of homelessness, with complex needs such as physical and mental health needs. They could have a history of being looked after or have suffered trauma in their lives.
The resident will be supported by staff from homeless young people's charity Llamau and the Council, who will monitor their health and wellbeing and help them develop life skills and engage in education and training opportunities to maximise their employability.
Once the young person is considered ready to move into their own independent property, they will need to register on Living Merthyr Tydfil - the name for the common housing register - and wait to be allocated accommodation.
The project was approved following an application to the Welsh Government's Youth Innovation Fund towards the appointment of a project manager and other staffing costs.
The award will also cover capital costs to ensure each flat can provide the comfort and personal touch for each young person to have a say in how they are furnished and decorated so that when they move on, their possessions go with them to help them get started in their new home.
Sam Lewis, Operational Director at Llamau said: "Llamau is determined to end homelessness for young people in Wales, and Housing First for Young People provides us with an opportunity to try new ways to reduce the numbers in Wales who experience the frightening reality of homelessness.
"The young people that we are proud to be supporting through this new project deserve to have a home in which they feel safe and secure so that they can move on with their lives and achieve their full potential."
Anne Hinchey, Group Chief Executive of Wales & West Housing, said: "We are pleased to play a part in such an innovative project.
"We are committed to doing all we can to support local councils and the Welsh Government by increasing the number of our homes we make available for Housing First projects like this. We are also working with support agencies to build more new specialist and dedicated housing where there is a need.
"We hope the young person who has moved into our home will feel safe, supported and proud to have a place they can call home for as long as they need."
County Borough Council Cabinet Member for Regeneration and Public Protection Cllr Geraint Thomas said: "The authority is a trailblazer for Housing First, but our homelessness review identified that there was an accommodation gap for young people with complex needs.
"Providing these young people with the skills needed to live independently will ensure they're able to sustain a tenancy, reducing and even removing the risk of them becoming homeless in the future.
"This collaborative approach to working with young people will also allow them to have a successful transition to adulthood, improve their wellbeing and help them to become an active member of their community."