Owl rescued thanks to quick work by residents and staff
Categories : Press Release
09 Jul 2020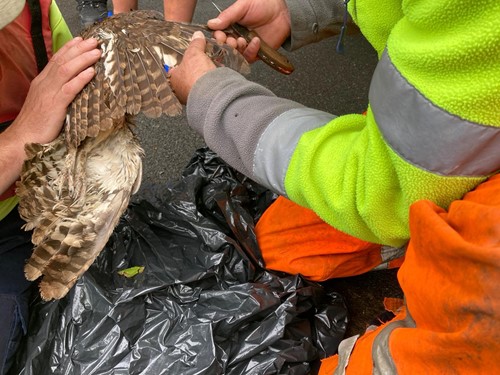 Residents, Council and Wellbeing Merthyr staff sprang into action yesterday when a Tawny Owl was spotted caught up in fishing line on the island in Cyfarthfa Park Lake.
After walkers Andrea and Nigel Hulbert noticed the owl, whose wing was caught in the wire, they managed to get hold of grounds staff who quickly scrambled a rescue boat and sailed to the island in a bid to save the distressed young bird.
It was freed from the line and taken promptly to the Medivet surgery in Georgetown where, after being checked by one of the vets, it was placed in the kennels to rest in the hope of being released back into the wild in a couple of days.
Andrea and Nigel tried to get hold of the RSPCA, but on receiving no answer, put a post on Facebook asking for help.  Litter picker Colin Lewis alerted Head Gardner Julian Burns, groundsman Darren Williams and labourer Pete Mason. Ian Woolston and Matthew Felton of Wellbeing Merthyr arranged access to the boat and Julian and Pete made their rescue.
Darren said: "It was hanging from the wire in a tree.  It was very dehydrated and tired, and looked like it could have been there all night."
Cllr Geraint Thomas, Merthyr Tydfil County Borough Council Cabinet Member for Regeneration and Public Protection, said: "Merthyr Tydfil Angling Association members work hard to try to protect the environment and wildlife at Cyfarthfa Lake and were also quickly at the scene of what was an unfortunate and rare incident.
"Anglers, however, must be mindful about the safe disposal of fishing lines.  My thanks go out to our own and the Leisure Trust's staff for their quick response in saving this poor bird's life.
"Thanks first and foremost to our vigilant residents Andrea and Nigel Hulbert for reporting the incident and waiting around for two hours to make sure the owl was taken to safety.  We have the kindest people living in Merthyr Tydfil."