Partnership with station contractors creates jobs for local people
Categories : Press Release
11 Mar 2020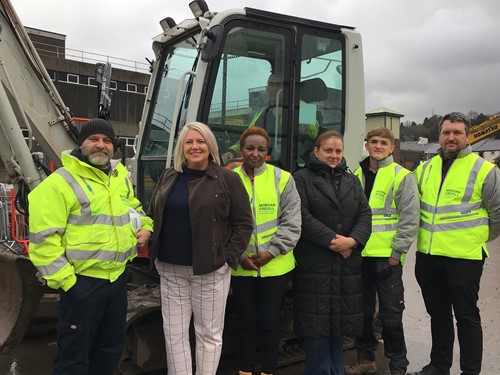 A partnership between one of Merthyr Tydfil County Borough Council's employability programmes and the company building the town's new bus station has resulted in four long-term unemployed people finding jobs.
Through the Council's Communities for Work (C4W) project, a Welsh Government initiative that helps people overcome barriers to employment, contractor Morgan Sindall has taken on the new staff to support the business during the 18-month construction period.
Lee Vivian is working as the site gatekeeper, ensuring security of both staff and visitors; Christine Karanja Jones is Morgan Sindall's site office administrator; and Ewa Nowakowska is employed as the office cleaner.
Merthyr town centre resident Lee, 45, was previously employed in construction, manufacturing, steel erection and dry lining, but became unemployed and was supported by C4W in updating his CV to promote his skills and personality.
Project officers discovered that Morgan Sindall was looking to employ a gatekeeper. "Lee had the personality to be front of house, meeting and greeting people," said C4W Operational Co-ordinator Tina Ryan-Newton. "He had previously struggled to get a job as he can't drive and needed to be close to home. This opportunity has changed both his and his family's lives."
Christine, 54, from Trelewis, was previously a manger but left due to work-related stress. C4W helped her to improve her confidence and re-engage with the community after 'locking herself away at home' for over a year.
She attended weekly wellbeing activities to improve her self-esteem and was also supported with CV writing, interview techniques and job applications, allowing her to secure a career change into administration with Morgan Sindall and improve her work/life balance.
Christine said: "Communities for Work do a fantastic job helping people with a range of barriers to employment, and I cannot thank them enough. Great people remind you just how great you yourself can be!"
Polish-born Ewa, 43, who now lives in Gurnos, was a long-term C4W participant who completed the 'Our Club' programme and gained additional, work-related qualifications such as Food Safety Level 2 and COSHH Awareness (Advanced).
She was helped to prepare for and attend several interviews and with writing personal letters/correspondence. The opportunity with Morgan Sindall arose when Tina Ryan-Newton, mindful of Ewa's efforts to gain employment, told representatives about her, resulting in an interview and job offer.
Ewa said: "The job is great and I work with some very nice people who are really helpful and understanding in explaining things to me. I'm very happy to have this job."
Another local resident taken on at the bus station is Kian Stephens, 17, who has been appointed through Morgan Sindall's apprenticeship scheme as a trainee site engineer, involved in the setting out and control of the works on site. Kian described it as 'a thrilling start' to his career in construction.
Morgan Sindall Project Manager Ross Williams said: "Engaging with the communities within which we work is vital to Morgan Sindall, and we're delighted to discover such excellent talent with the support of Communities for Work.
"We look forward to continuing to develop our portfolio of local people engaged with this exciting project."
• Communities for Work provides a wide range of support in finding employment including free training, work experience and volunteering opportunities, help with job applications and support and advice with travel, childcare or caring responsibilities. If you feel the project could benefit you, please call 01685 725364/727303, or email cfw+@merthyr.gov.uk
Picture caption
From left, Lee Vivian, Tina Ryan-Newton, Christine Karanja Jones, Ewa Nowakowska, Kian Stephens and Ross Williams.