Pinpoint room for improvement on our interactive travel map!
Categories : Press Release
05 Mar 2021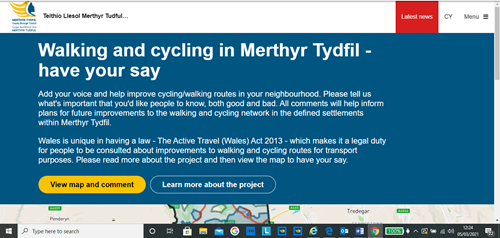 Merthyr Tydfil residents who use walking and cycling routes to get around the county borough are being given a hi-tech chance to help us improve them.
Today (Friday, 5 March), the County Borough Council is one of several local authorities across Wales launching an interactive map to gather opinions from communities about the condition of local walking and cycling paths.
The draft Active Travel Network Map (ATNM)) is a 15-year plan as part of Welsh Government's Active Travel initiative to reduce vehicle journeys and increase those made by walkers and cyclists, including people using mobility scooters.  This includes journeys to school, work and shops, or to access services such as health or leisure centres.
The website, run by online consultation platform Commonplace, allows people to click on and pinpoint the exact places where they would like to see improvements.
This could be routes that are interrupted or feel unsafe - because there are no crossing points or dropped kerbs, or there are cars parked on the pavement - or even that there are routes that don't exist where they are needed.
County Borough Council Cabinet member for Regeneration and Public Protection Cllr Geraint Thomas said: "We know from our own surveys that the pandemic has seen a massive increase in the number of people out walking and cycling, particularly on our trails.
"So we want to capture that local knowledge while it's still fresh in people's minds. Where did their active travel journeys became difficult? Were there areas where they felt unsafe? Are there any places where they couldn't continue their journeys? Are there journeys they'd like to walk and cycle but don't feel safe doing so?
"This website will form an important part of improving the provision of active travel, cutting down unnecessary traffic and helping families get about safely, improving air quality and increasing the attractiveness of places where we spend time for our daily journeys."
So please have your say by clicking on an area you know well to tell the council where you think walking and cycling routes could be improved. Please leave as many comments as you like as every idea you have will help inform the council's plans for making improvements.
If other people agree they'll be able to show this and allow us to build up a picture of where the priority areas for improvements are. Please enter as many issues as you like, one by one - thinking about where things could be better to enable people to walk or cycle more safely around your neighbourhood or workplace.
All feedback received from this consultation will be analysed and considered as we produce the next edition of the Active Travel Network Map (ATNM) for Merthyr Tydfil.
The ATNM is a legal requirement in Wales and Merthyr Tydfil County Borough Council will be submitting it to the Transport Minister later this year for approval. Once approved, we are able to apply for funding from the Welsh Government each year to implement the proposals on the map.
Please click on the following link to take part https://merthyrtydfil.commonplace.is/