Pioneering project to tackle homelessness marks first anniversary
Categories : Press Release
05 Feb 2020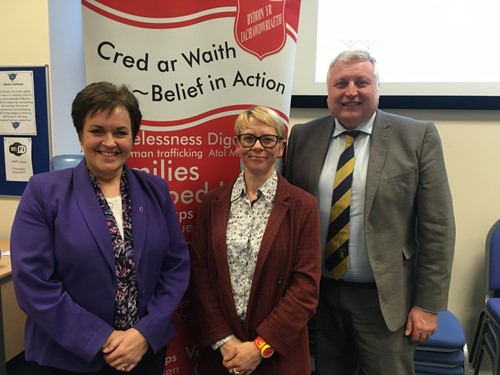 A pioneering project which is helping reduce the number of homeless people in Merthyr Tydfil has just marked its first anniversary.
The County Borough Council's Housing First Project, run in partnership with The Salvation Army, is a new approach to addressing rough sleeping that has proved successful in the United States and parts of Europe and the UK.
The initiative has been seeing rough sleepers who want to take part being moved from the streets directly into their own home, with no homeless shelters in between. They are then given support in addressing other issues like substance misuse or poor mental health.
Since the scheme began, staff have supported 72 clients, referring some of them to agencies, hostels, hospital, rehab and back to their families. On average, clients get 14 hours of face to face contact each week once they are in a property.
The Salvation Army organised a celebration event in Merthyr Tydfil to mark the scheme's first year, attended by the Council's Cabinet Member for Regeneration and Public Protection Cllr Geraint Thomas and Merthyr Tydfil and Rhymney Welsh Assembly Member Dawn Bowden AM.
Emma Paynter, The Salvation Army's Homelessness Services Unit for Wales and the West Assistant Regional Manager said: "The feedback we have had from the people we work with on Merthyr Tydfil Housing First has been overwhelming; lives have been transformed. People are moving into a new home – a home that they can furnish and invite family and friends round for tea, and they can see a future for themselves.
"Our partners have been alongside us every step of the way, and we have all worked together to ensure that Merthyr Tydfil Housing First puts the people first and we are investing all our energies to create the best environment and opportunity for a person to realise their potential and dreams."
Cllr Thomas said: "Housing First is housing with no strings attached. The person is found a home first and then comes support services to help meet their needs. I'm delighted that we can now support the most vulnerable people in our society and extend my thanks to our officers and those of the Salvation Army in ensuring that we can do this."
Dawn Bowden AM said: "Thanks to Welsh Government funding, Housing First forms one part of the jigsaw and seeks to reach out and help people who are in desperate need. There is more to do in terms of the supply of homes and the affordability of homes to rent. However, Housing First is working and another important step forwards."

Merthyr Tydfil Housing First case study – as told to The Salvation Army
A Merthyr Tydfil man who became homeless after alcohol abuse turned his life upside down says a housing service in the town has given him stability and hope.
Merthyr Tydfil Housing First moves people who have been homeless into their own homes and its team of experts is on hand to give them specialist support.
It is operated by The Salvation Army's Homelessness Services Unit for Merthyr Tydfil County Borough Council and been running since October 2018.
Tyler* is now living in the Housing First Merthyr Tydfil programme and began drinking alcohol socially with colleagues while he was working on building sites.
But Tyler soon found himself turning up for work still drunk from the night before.
"I would go out most nights with the boys from the site and that was a lot of fun to begin with, but looking back now I can see that I was out of control. I was waking up and soaking up the alcohol from the night before with big fry-ups and drinking coffee to stay awake," he recalled.
And when the building work dried up, Tyler moved in with his father and began drinking during the day.
"I was staying with my father at this time and that's when I started buying cans to drink during the day – the strong Polish lager. I was looking for work and my own place to live and didn't really have a lot to do at the time and was drinking a lot - up 20 cans a day," commented Taylor.
Tyler's drinking put pressure on his relationship with his father and so one day he moved out and ended up sleeping rough.
"It just wasn't working out living with Dad. One day he came into the living room and I was there, surrounded by empty cans. I didn't want to have a row with him or upset Dad in any way, so I just got up, gave him my keys and walked out.
"I ended up sleeping rough in Pontypool and Cardiff and that lasted about eight months. I got assaulted one night when I was sleeping rough and it wasn't nice knowing that I had nowhere to go," he recalled.
But when he came back to Merthyr, Taylor found temporary support accommodation through Merthyr Tydfil County Borough Council.
This is where he linked up with the Merthyr Tydfil Housing First programme.
"When I got onto Housing First, I felt like I was moving on again with my life and I knew it would be a big step forward for me. The Housing First staff are great and they helped me out with sorting out my benefits, got me registered with a new doctor and they're giving me all the emotional support I need.
"I'm getting some structure and stability into my life and life can only get better for me. I feel good now – I can go home, lock the door, switch on the heating, get some food going and sit down to watch a DVD and I know that it's my home. I feel I'm going up the ladder and life is on the up," said Taylor.
*We've changed Taylor's name at his request to protect his identity.