Categories : Press Release
18 Jun 2019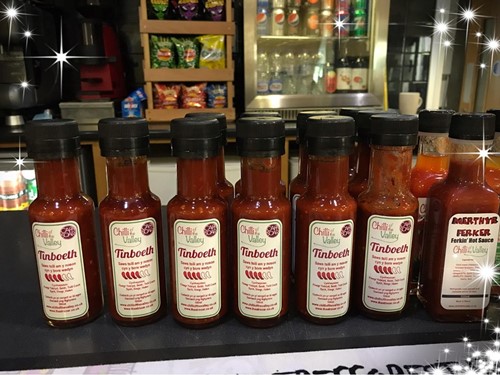 Traders in the most historic part of Merthyr Tydfil's town centre are warmly embracing 21st century cuisine by aligning with the hottest date in the annual events calendar.
This weekend (Saturday 22 June) sees the Merthyr Street Chilli Fest host some of the best chilli producers from around the UK, exhibiting some of the best chilli products including naga cooking sauces, chilli plants, chocolate and chilli merchandise.
The festival takes place in Penderyn Square, and the street stalls will be complemented by the 'Pontmorlais Chilli Trail', where further peppery delights can also be found indoors at a quartet of recently and beautifully refurbished premises.
Caffi Soar, which provides quality food and drink at Canolfan a Theatr Soar - the vibrant central hub for the arts, music and Welsh language - stocks locally produced Chilli of the Valley sauces, Bragdy Twt Lol local ales and a range of other Welsh produce. It is also an exclusive stockist of Chilli of the Valley's Tinboeth chilli sauce.
The hugely popular Mammo's Proper Fish & Chips is giving chilli lovers the chance to have their fish cooked in chilli batter – light and crispy with just enough heat to set tastebuds tingling - and the not quite so fiery deep fried Halloumi cheese with a sweet chilli dip.
Portugalles, which offers a true taste of Portugal in Merthyr, will be serving its usual freshly cooked quality food, snacks, coffee, beer and wine. The menu also features the restaurant's unique Portuguese Chicken Piri Piri.
One of Merthyr Tydfil's oldest pubs, the Anchor is offering the most modern of drinks alongside its usual selection of local beers, ales and wine. Especially for the Chilli Fest, staff are mixing up the Sweet Heat Cocktail, a vodka, pineapple juice, syrup and jalapeño infused concoction. The drink will be served in a gin balloon with sliced ginger as a garnish, and lime wheel for sharpness.
The Merthyr Street Chilli Fest runs from 10 am to 5pm and entry is free.