Progress from 'Wobble to Road' with free confidence-building course
Categories : Press Release
06 Aug 2019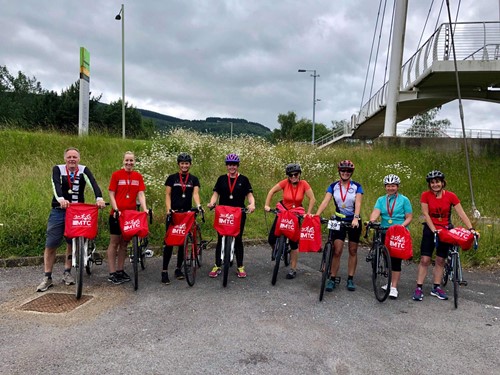 Merthyr Tydfil residents who want to take up cycling but aren't confident on the road are being taught skills to make them safe in a free eight-week course.
The success of a pilot 'Wobble to Road' project, in which seven people progressed from cycling around a school athletics track to a 20-mile road ride, has resulted in joint organisers Active Merthyr and Merthyr Triathlon Club planning a second course this September.
Initial sessions were held at Afon Taf High School, where participants started out on the track before eventually leaving the school grounds for the outside world.
"This course is aimed at anyone wanting to get back in the saddle and develop confidence in cycling in a safe manner," said Active Merthyr Community Sports Co-ordinator Jennifer Evans. "We also want to get more people cycling in Merthyr and using our great network of trails and the roads around them.
"Some members of the first course are now going on to became leaders themselves and help others to become confident bike riders too."
The second course, again taking place at Afon Taf High School, starts on Sunday, September 8 at 9.30am. All sessions take place on Sundays and there are bikes available for people who don't already have one.
Merthyr Triathlon Club Chair Justin Smith said: "Having coached the first Wobble to Road group, I can't believe how enthusiastic and willing to learn they were. They all successfully met the goal of a 20-mile bike ride with confidence.
"It's also great to see that many of the group have continued to ride and even bought new road bikes, looking forward to the next course."
• If you would like to take part in the next course please get in touch with Activemerthyrtydfil@Merthyr.gov.uk or merthyrtriclub@gmail.com or telephone 01685 725318.