Proof of residency required at HWRC sites
Categories : Press Release
23 Mar 2020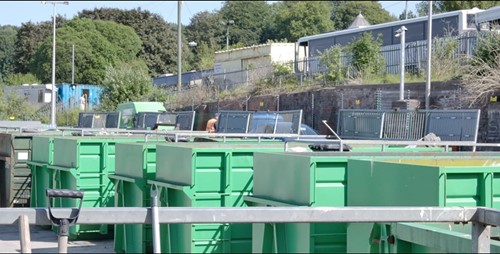 Merthyr Tydfil residents going to household waste and recycling centres are to be asked for proof of their residency following a significant recent increase in usage by people from neighbouring local authority areas.
As a result of other councils asking their residents to provide proof of residency and also closing their sites a number of days a week, there has been big impact on the amount of waste arriving at Merthyr Tydfil's Aberfan and Dowlais sites from outside the county borough.
We are now asking for our residents to carry some form of proof of residency to ensure that waste and recycling brought to our centres is from Merthyr Tydfil residents only and it is not of a trade nature or from elsewhere.
Site users can do this by taking a driving licence, utility bill or other suitable means of identification, with the rules coming into force from this coming Wednesday, March 25.
This will allow the Council to:
• Keep within budget constraints for haulage and gate fees for waste/recycling material accepted at HWRCs
• Reduce the number of site users who are not Merthyr Tydfil residents
• Reduce site congestion
• Reduce conflict and aggression between site users and waste operatives. Non -residents have different material streams at their local sites, which is causing conflict between staff and these site users when they are told to do something they are not used to or don't want to.
Cllr David Hughes, Cabinet Member for Neighbourhood Services, Planning and Countryside, said: "Carrying out these checks on site is a positive move and helps ensure our Waste Management team does everything possible to put the residents of this town first. Thank you for your continued cooperation."
Please be mindful that with the impact of the covid-19 virus, following NHS guidelines is essential. If your journey to the HWRCs is not essential, please do not risk the trip. Yours and others safety is paramount.