Rapid progress on new bus station
Categories : Press Release
30 Apr 2020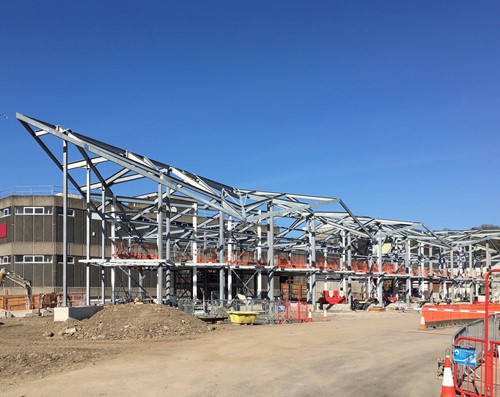 Merthyr Tydfil's new bus station is rapidly taking shape, with erection of the building's structural steel frame having recently been completed.
The next step will be to start work on the station's 'envelope' – the design and construction of the exterior - and cladding systems to ensure the building is weathertight.
"It's exciting to see the building coming to life as we start to make it weathertight. I'm delighted that the authority and key stakeholders are equally thrilled," said Ross Williams, project manager for main contractor Morgan Sindall Construction.
The structure - the roof profile of which follows the profile of the Brecon Beacons - comprises 135 tonnes of hot-rolled steel, measuring 80m long and 11.4m high, and took six weeks to erect, including flooring and stairs.
Cabinet Member for Regeneration and Public Protection Cllr Geraint Thomas said: "Morgan Sindall Construction adhere to the strictest health and safety standards and are ensuring the appropriate social distancing measures are observed at all times during the current situation.
"We're all very happy with the sterling progress made by our contract teams on the new bus station," he added. "It's impressive work, and we'll be even more excited to see the next phase."
• The new bus station is being built on the site of the former police station in Swan Street, with an expected completion date of spring next year.
Welsh Government awarded the County Borough Council £10m funding for the station, which will be located closer to the town's railway station, to complement its significant investment in the Core Valley Lines Rail Network.