Record numbers of residents seek solace in Merthyr Tydfil's 'treasured Trail'
Categories : Press Release
28 Jan 2021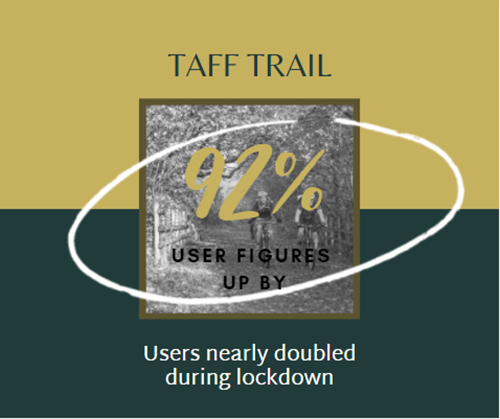 Huge numbers of Merthyr Tydfil residents have taken solace in the open spaces of the Taff Trail during the pandemic, with a more than 90% increase in visits recorded during the three periods of lockdown.
Over the year as a whole, there was an increase of 49% in the number of visits, while the lockdowns combined saw figures rise 92% - from 186,075 for the same periods in 2019 to 357,301 in 2020.
Footfall counters have revealed that there were a total 723,377 visits recorded in 2020 compared with 486,916 in 2019. 
These were people walking, running, cycling and horse riding on the Trail, which runs for 14 miles through some of the county borough's most scenic countryside.
The data was compiled by the County Borough Council's Destination Management Team for The EU-funded Atlantic Area Trail Gazers Project, an international initiative aimed at encouraging visitors and residents to make the most of the environment on their doorsteps.
"It's clear that our treasured Taff Trail has been used as a central asset during an uncertain time, and that residents see it as a safe place to exercise," said Cllr Geraint Thomas, Cabinet Member for Regeneration and Public Protection.
"Much of it is traffic-free and easily accessed by those living both in the town centre and in most of our outlying villages. It's proved to be an invaluable resource for the community in helping to maintain mental wellbeing and physical fitness during the crisis."
The first national lockdown started on 23 March 2020, and apart from the initial two weeks - where people were told to stay indoors - there was a steady and rapid rise in weekly user figures, with clear spikes being reported during the last two weeks of May: up by more than 94% when calculated against the same period in 2019.
Evidence of increased activity on the Trail was reported again during the three-week firebreak in October and November, showing a more than 83% increase over the same period in 2019.
The third national lockdown implemented from 26 December 2020 saw a rise of more than 53% when calculated against the same period in 2019.
"Statistics compiled over the past five years show that usage has increased year on year since 2016," Cllr Thomas added. "But most astonishing are the figures for the first week of January 2021, which saw usage increase by 114% on 2020, with 14,624 visits compared with 6,089 for the same week then."
The Trail Gazers Project was established to find new ways to encourage people in the UK, Ireland, Spain, Portugal and France 'off the paths and into the surrounding local and rural communities to immerse themselves in new cultural, culinary and life experiences'.
Supported by the European Regional Development Fund, the project has 10 partners from the different Atlantic regions, including Merthyr Tydfil County Borough Council.