Resident who gave waste to Scrap Men fined
Categories : Press Release
03 Dec 2019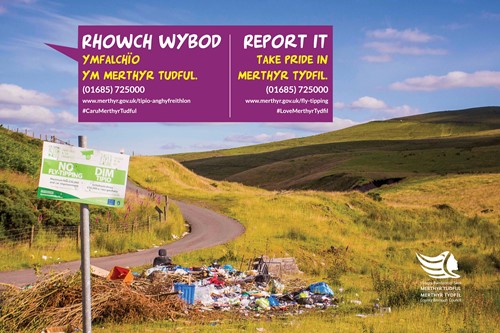 On Wednesday 27th November 2019 at Merthyr Tydfil Magistrates Court, Lloyd Jones of Pant, Merthyr Tydfil, pleaded guilty to three Duty of Care offences in relation to fly-tipping and was ordered to pay fines and costs totalling £1415.44. 
Merthyr Tydfil Council officers found information relating to Mr Jones during two fly-tipping investigations in May 2019, which took place on the Parish Road, Merthyr Vale.  He also admitted to failing to control waste that was found on the Bogey Road in January 2019.
Mr Jones told council officers during investigation that he had given his waste to scrap metal men and admitted to the court that he had failed to take reasonable care on each occasion to ensure where his waste was going, or that the person taking it was an authorised waste carrier.   As a result he was fined £480 and ordered to pay costs of £905.44 and a victim surcharge of £30.
Robert Barnett, Neighbourhood Services Street Scene Manager said "This prosecution highlights that we do not tolerate fly tipping and will not hesitate to take action to protect our environment against it.
"We strongly advise that householders check who they use to get rid of their waste.  They have a duty of care to ensure waste is disposed of correctly and can be prosecuted for hiring someone to remove waste without doing any proper checks as to where their waste is going to end up."