Categories : Education , Schools
04 Sep 2020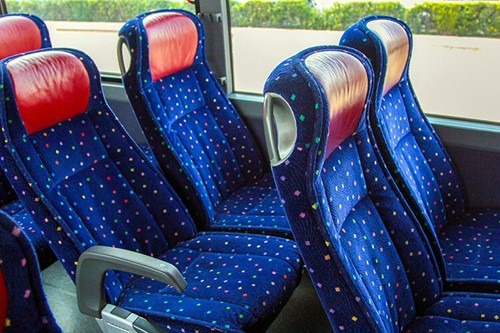 Will school transport be provided when the schools re-open in September?
The Council is working to resume its dedicated school transport services for all learners, in line with the latest Welsh Government (WG) guidance (https://gov.wales/sites/default/files/publications/2020-08/operational-guidance-for-schools-and-settings-from-the-autumn-term-version-2.pdf). However, the Covid-19 pandemic has made the planning of school transport extremely difficult and as a result we may be physically unable to deliver home to school transport for every pupil that requires it in time for the start of the autumn term.
We are continuing to encourage parents or carers to take their children to school by walking, cycling, scooting or wheeling, or alternatively by private car, in order to reduce the capacity constraints. We understand that this will not be possible for some people.
While parents or carers may feel apprehensive about the risks in using school transport during the COVID-19 pandemic, they should decide whether to do so, or, if they prefer, they should make their own arrangements to transport their child to and from school.
Will my child's school transport route be running?
For most learners already in receipt of free school transport or for whom new arrangements have been put in place for September, all school transport routes will continue to operate as they did before the COVID-19 pandemic.
Every summer, it is necessary to make some changes to accommodate new learners onto school transport. You will have been notified by letter if your child's transport has changed.
Learners entering year 7, and those attending Special Schools. Learning Resource Bases and Pupil Referral Units, and Special Schools have been to confirm what transport arrangements are in place. All other students will travel by their normal method of transport (unless written to otherwise). If you have not received information about your child's transport, please contact the Transport Department.
The Council will only issue new bus passes for Year 7 secondary school pupils for the 2020/21 academic year. All other learners travelling on mainstream coaches are advised to retain their bus pass issued previously for presenting to the driver. If you have lost or disposed of your pass, please contact the Transport Department for an replacement pass.
If transport was not already provided or you have not received confirmation that your child has been allocated a free seat on school transport, you must make your own way into school.
How many learners will be able to travel on each taxi/bus/coach? 
Based on WG guidance, we will be using most of the vehicle's available capacity on dedicated transport.  On public buses the number of pupils that will be able to travel at any one time will be reduced due to social distancing requirements.
My child has additional learning needs. What transport arrangements will be in place to Special Schools, Learning Resource Bases and, Pupil Referral Units?
All taxis and minibuses to Special Schools, Learning Resource Bases and Pupil Referral Unit will continue to operate as they did before the COVID-19 pandemic. If your Child is new to additional learning needs transport, you will receive details of your home to school transport towards the end of August.
Whilst social distancing is not required on additional learning needs school transport, we are working with schools and operators to provide proportionate safeguards to minimise the risk of transmission of COVID-19 to ensure learners can attend school or college. These include;
drivers and passenger assistants will wear face coverings or visors and personal protective equipment (PPE) as appropriate,
vehicles will be cleaned regularly, including anti-bacterial wipe down of handrails, door handles and all surfaces that passengers may touch,
anti-bac wipes and hand sanitiser will be available,
on larger vehicles (minibuses), children will be directed to sit in the same seat (where possible) with the same child or children on every journey,
windows will be open whilst moving to ensure the vehicle is well ventilated. 
Will my child need to social distance on school transport?
Dedicated School or College Transport
Most learners travel on dedicated buses, coaches or taxis, which exclusively carry learners travelling to and from school or college.
The Welsh Government guidance acknowledges that it is not always possible to allow social distancing between learners accessing dedicated school or college transport. Therefore, learners on most dedicated school transport will not be able to social distance. 
Proportionate safeguards will be taken to minimise the risk of transmission of COVID-19 on dedicated school transport to ensure learners can attend school/settings on the basis that;
the overall risk to children and young people from COVID-19 is low,
dedicated school transport carries the same group of learners on a regular basis, and those learners may also be together in school,
learners will sit together in year groups where possible,
siblings can sit together,
there will be no face to face seating,
there will be no contact between learners and other passengers
windows and roof vents will be kept open where possible,
contact will be minimised with individuals who are unwell,
all passengers, including the drivers and escorts should wash their hands or use hand sanitiser before boarding transport and when arriving at school or home,
if there is a suspected or confirmed case of COVID-19, then it will be easy to identify who was travelling on which vehicle, helping to test, trace and protect,
there will be a rigorous cleaning and sanitising regime between before or after each journey.
To also help reduce the risk of transmission of Covid-19, learners should;
minimise contact with individuals who are unwell,
clean hands thoroughly and more often than usual,
ensure good respiratory hygiene by promoting the 'catch it, bin it kill it' approach.
When waiting for the school bus it is a parent or carer's responsibility to ensure their child behaves responsibly while waiting for the vehicle. This includes social distancing.
Will my child be expected to wear a face covering?
WG have stated that whilst face coverings are likely to be of little value in children under the age of 11 years, the rates of infection and transmission increase from the age of 11 onwards, during the secondary school age group, and could have a role in risk mitigation. Therefore, the current advice from the Chief Medical Officer for Wales is that face coverings are recommended for all members of the public over 11 years in indoor settings in which social distancing cannot be maintained, including schools and school transport. 
In line with WG guidance, Merthyr Tydfil CBC are strongly recommending that all secondary school and college learners travelling on dedicated school transport wear a face covering, as most vehicles are full, and learners cannot sit together in their year groups. Your support in reinforcing this message with your child would be greatly appreciated.
Where learners wear a face covering, they should not touch the front of their face covering during use or when removing them. They must wash their hands immediately on arrival at school or home, dispose of any temporary face coverings in a covered bin or place reusable face coverings in a plastic bag for washing.
Merthyr Tydfil CBC will be issuing all learners with  a reusable face covering the first day they attend school. On transport that first day attendance parents are encouraged to supply their child with a face covering to wear. Learners who cannot wear a mask for cognitive or medical reasons can speak to the school who will issue an exemption letter that can be used on transport.
All staff involved with the transportation of pupils on dedicated school transport e.g. drivers and escorts will be required to wear face coverings on mainstream transport and any additional appropriate PPE in line with WG guidance.
What further precautions must my child take when travelling?
We ask that parents or carers help communicate to their children the importance of following good hygiene and social distancing, as this will play a key role in keeping everyone safe.
This means taking the following precautions;
do not travel if your child or a member of their household has any of the four identified COVID-19 symptoms (a new continuous cough, a high temperature or loss of taste or smell),
do not travel if anyone in the household is required to self–isolate as a contact of a case under Test, Trace, Protect (TTP) or is in quarantine having returned from a country specified by the Foreign Commonwealth Office,
wash your hands for at least 20 seconds or sanitise your hands before leaving the house,
use the hand sanitiser provided before accessing the vehicle,
avoid physical contact with others,
windows will be open for ventilation where possible,
face away from other people when using school transport,
minimise the number of surfaces you touch, and in particular avoid touching surfaces such as handrails and window ledges,
do not touch your face,
do not eat or drink whilst using transport,
wash your hands for at least 20 seconds or sanitise your hands before leaving school.
Please note that a refusal to comply with health and safety requirements, good hygiene and where appropriate social distancing could jeopardise your child's place on school transport. Your support in reinforcing this message with your child would be greatly appreciated.
How will your child know where to sit? 
Learners should board dedicated school transport on the basis of the distance to or from school. Those who live furthest should board first and sit at the back, while those who live closest should board last and sit at the front.
Learners will also be encouraged to use hand sanitiser on boarding the vehicle where provided. It is expected that learners will have washed their hands before boarding the vehicle and upon arrival at school.
Learners travelling on coaches or larger vehicles may be asked to use the same seat each day.
Learners using dedicated home to school taxis or minibuses will be asked to sit in the same seat each day.
How will you ensure that services are not overcrowded? 
Only named passengers that have prior approval to travel will be allowed to use transport. Transport providers will have lists of learners that will be allocated to their vehicle each day. Those not eligible to travel will be turned away from the vehicle
How will we organise learners waiting at bus stops
There is no legal requirement to wear a face covering while waiting for transport to arrive.  At a bus stop normal practice on maintaining 2 metre social distance should be observed. 
However Welsh Government guidance recommends that people wear face coverings.
The local authority (or indeed transport providers) will be unable to demarcate or monitor bus stops. 
Will transport suppliers be following health and safety guidance? 
We are asking transport suppliers to follow the Welsh Government guidance https://gov.wales/restarting-public-transport-guidance-operators. This guidance includes actions such as regular sanitising, the thorough cleaning of vehicles and the use of PPE.