Signs to direct bird lovers and protect birds
Categories : Press Release
03 Dec 2019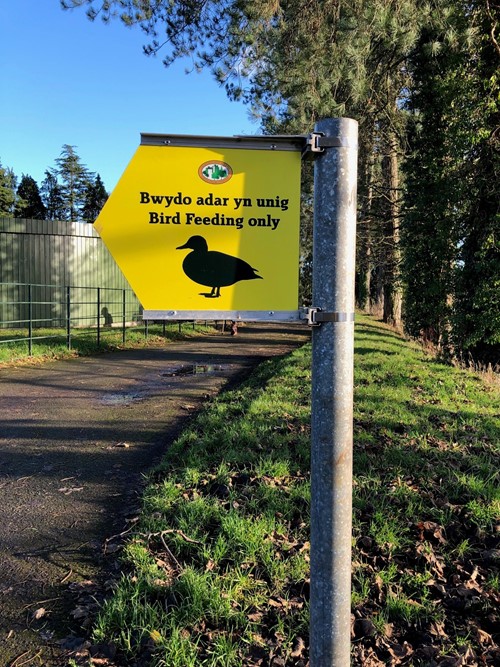 Signs have been erected at Cyfarthfa Park Lake to encourage people wanting to feed the ducks, geese and swans to use a dedicated area.
The Council has put the signs up after a number of recent incidents in which wildfowl looking for food have been caught up in fishing lines.
"Problems have arisen where people visiting the park have thrown in bread near anglers' fishing lines," said Gerald Lewis, County Borough Council Parks Team Leader. "This not only disrupts the fishing but also raises the risk of birds being caught up in the lines and, worse, being hooked.
"Merthyr Angling Association carry out a great deal of conservation work on the lake and the Leat, so it's a shame these incidents are happening as they obviously feel bad about them."
People who want to feed the birds are being asked to do so at a location on the far side of the lake, away from all the fishing pegs on the opposite side.
"It's the paving slabbed area where kayaks launch occasionally when they're on the lake," Gerald added. "We've installed bilingual signs to inform visitors and hope this will allow the waterfowl to feed in peace and safety."