Site chosen for single VA Catholic school
Categories : Press Release
03 Feb 2021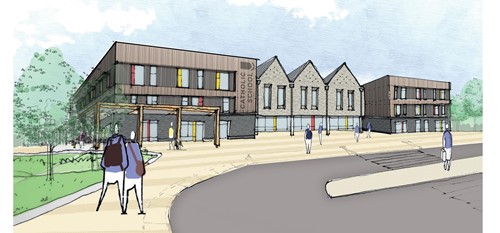 The site has been chosen for Merthyr Tydfil's new single all through 3-16 Voluntary Aided (VA) Catholic school.
The County Borough Council's Cabinet has approved the land south of the 'Greenie', west of Galon Uchaf Road as the preferred site, but will hold further consultations with residents, school communities and the Archdiocese of Cardiff as the design progresses.
Further investigations will now be carried out, including traffic monitoring, drainage and ground investigations, ecology surveys and licensed drone surveys of the site and surrounding areas.
To ensure suitable traffic management, drop-off/parking and sports facilities, the current upper Bishop Hedley High School site will be retained as an option to supplement the use of the main site if required.  
The Stage 1 contract for design development has been awarded to Willmott Dixon Construction\, the UK's leading builder of schools and colleges, which will be undertaking the site investigation works.
Regular newsletters will be sent to local residents and the school community with site investigation updates and details of any further consultations.
The intention is to minimise disruption to the local community and residents, and all work will be carried out during normal working hours: Monday-Friday 8am-5pm, unless specifically required, such as dusk surveys of bats.
The new school building is expected to open in September 2023 and will replace the current school sites at Bishop Hedley High School, St Aloysius RC Primary, and the Federation of St Illtyd's and St Mary's RC Primary Schools.
The plans include shared use of one of the community playing fields which will be enhanced to an all-weather facility.
Council Leader and Cabinet Member for Learning Cllr Lisa Mytton said: "We're happy that, after detailed consultation, we've chosen the best possible location for our exciting new school.
"We need to do some further detailed investigations to ensure the infrastructure is completely right for all stakeholders, and we'll be making sure everyone is fully-informed along the way."
A copy of the Cabinet report is available on the website at the following link https://democracy.merthyr.gov.uk/documents/s52898 and can also be received on request either via email or as a hard copy via post.
Provision will be planned in partnership with the Archdiocese of Cardiff, which will be responsible for the operation of the school.